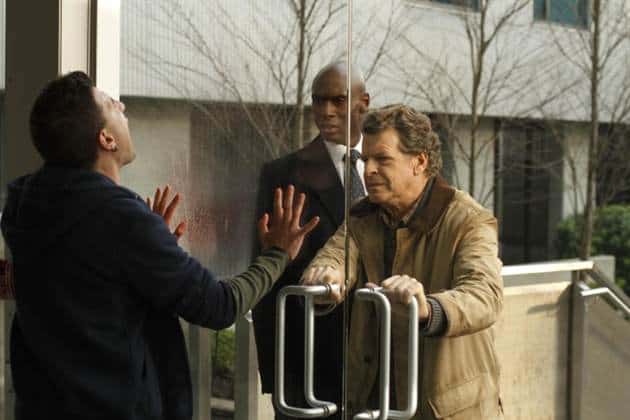 Fringe is one of the few shows on television that can come back episode after episode and remain consistently amazing, while not becoming too repetitive. This week's episode, "What Lies Below," was no exception. After last week's foray into genetic mutations and deformed mutants with "Johari Window," the series came back with something completely different with this episode, the twelfth of season two.
While claustrophobia is a theme that has been explored on the series several times, it's never been featured so extensively than it has here. While most episodes show the team travelling far and wide to find out the answers to their mysterious cases, this episode put them all under one roof (for the most part), and made the episode an exercise in claustrophobia that was both entertaining and pulse-pounding.
The episode focused on a millennia old virus which had been uncovered after an oil dig by a gas company. After a corporate spy whisked the sample away to a rival company, the virus inside was released inside the building, infecting roughly a dozen of the building's residents, in additon to investigator Peter Bishop.
While practical viewers of the show would know that Peter was obviously in no danger, the episode portrayed his mind as being completely overtaken by the virus; he went so far as to beat up Olivia just to get her gun, so that he could fight back against the army, who was waiting to kill the infected on their army's orders.
The virus was an interesting case in itself; a written-in tool by the writers helped to explain Peter's longitevity with the virus; it was simply waiting until it could get out into the open and infect more people. The idea of such a sentient, intelligent virus is a fascinating one; a great case for a great episode.
Of course, the real delight of the episode was the Walter/Peter dynamic that was going on. When Peter, realizing he was infected, flipped the swab around so that his father would test the wrong end, you forgot that Peter was simply trying to escape the building. It seemed like, perhaps, he was trying to protect his father from the heartbreak that would come from realizing his son was dying.
Speaking of Peter dying, Astrid seems to have caught on to the fact that Walter is hiding something about Peter. When Walter accidentally slipped that he couldn't let Peter die "again," the ever-intrepid Astrid caught it. At the end of the episode, she brought it up to Walter, who enigmatically suggested that some things are better left alone. Of course, from the look on Astrid's face, we know it won't be left alone.
Other episode highlights: a small role from David Richmond-Pack (Georgie from ABC's V), and seeing Walter angrily talk down a superior who had a little too much self-worth.
Overall, the episode was one of the most enjoyable of the season, perhaps even more so than my favorite so far, "Grey Matters" (and that's saying something). Look for a full recap of the episode in the near future. A