Sometimes I just don't understand press releases. They walk a fine line between sensationalism and information, and occasionally, those lines blur. Take, for instance, the press release for the sixth episode of Fringe's third season, "6955 kHz:"
Back 'over here,'the Fringe Division investigates a bizarre phenomenon when 15 people up and down the Eastern Seaboard, all suffer retrograde amnesia from listening to their shortwave radios on the same frequency. Much to Walter's dismay, Peter presses on with piecing together the mass destruction device. Just as alternate Olivia and Peter's chemistry deepens, the anticipation of Olivia's return escalates.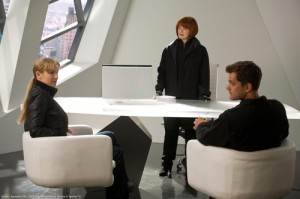 Now, the first half of that press release is pretty straightforward – it seems the box from episode 3.02 is back in some capacity, with the auditory damage being a major part of this episode as well, in both Peter's experimentation and the case, which will undoubtedly link together.
But the weird part of that release is the "anticipation of Olivia's return." Is that supposed to mean that viewers are getting more and more excited about Olivia's return, or does that mean that Olivia's return will be alluded to in the show? Will we be seeing, finally, the reveal that it's Altlivia over here? Something tells me that the Fringe writers will drag that out just a bit longer, but I would be pleasantly surprised to be proven wrong.
"6955 kHz" will air on Thursday, November 11, a week after Fringe's return to television on November 4.