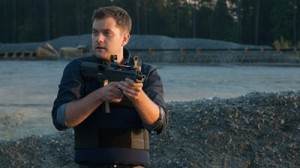 Fringe's fourth season is picking up speed. After last week's stellar episode "Back to Where You've Never Been," the momentum continues with "The Enemy of My Enemy," which airs January 20 on FOX.
I haven't seen the episode, so how do I know it will be so good? That's simple: look at these clips. Three preview clips from the episode have been released. One of them features the triumphant return of David Robert Jones (Jared Harris), who popped up briefly in the last episode. He's totally intimidating and watchable as he proves a point to Altlivia and Alt-Lincoln.
The second clip features typical Walter hi-jinks — this time he's liquifying meat to create the perfect recipe. As Astrid and Olivia both note, things don't exactly work out for the meat; it's pretty disgusting.
Finally, we have the third clip, which shows Peter and Lincoln arguing about what to do next. Peter wants to return to this universe, while Lincoln wants to stay and investigate the shapeshifters that killed his partner. Things seem to be resolved fairly quickly when Altlivia and Alt-Lincoln walk in with a handcuffed David Robert Jones, who Peter instantly recognizes. After all, Peter did kill him, once upon a time.
Fringe airs "The Enemy of My Enemy" tonight, January 20, on FOX.