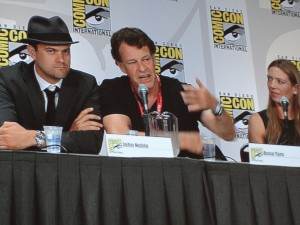 Today's Fringe panel was probably one of the most fun panels I had a chance to attend in the past three days. They showed a video of several people auditioning to be Peter's replacement – you know, since he apparently does not exist anymore – including some big names like Jorge Garcia, Damon Lindelof, Rebecca Mader, Greg Grumberg and Zachary Quinto.
They ended it with Joshua Jackson dressed up like The Observer, followed by Jackson himself entering the panel with an Observer attire. The fans went wild with his arrival and he thanked everyone for their support and for participating on the Pacey Con 2011, which I sadly missed.
The cast was very nice and warm towards the fans and John Noble took the time to thank the fanbase on behalf of the entire cast and crew for their support and loyal dedication to the show. He said that they would not be here today if it wasn't for the fans.
Lots of questions were asked, but not a lot of them were granted a concrete answer, as the producers said that they don't want to ruin what is in store for the audience in the upcoming fourth season. Josh said that he thinks the Peter we will see this season is wildly different from the character we have come to know and love in the past three seasons. When asked about Fauxlivia's baby, Anna said she thinks the baby might not exist at all, since Peter doesn't exist anymore.
Towards the end of the panel, they flipped the script and it was the cast's turn to ask the audience questions. Prizes were handed out and a lot of fans scored a "Save Peter" T-shirt.
[imagebrowser id=1104 template = flipped]