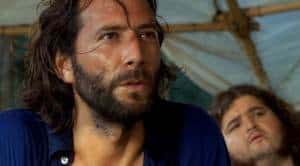 Tonight's episode of Fringe is one of its best, but you might do well to be getting excited about a future episode of the series. Episode 19 of the season is bringing in a guest star from that other great J.J. Abrams series, LOST. Henry Ian Cusick, better known as Desmond Hume, will guest star, according to TVLine.
Cusick will play an FBI agent assigned to a Fringe case, though it's unknown which universe he's from. TVLine speculates that Cusick's role is that of an "Alternate Universe Agent" who "possesses strength and confidence as well as strong comic timing."
Cusick's not exactly known for his comic timing, but I wouldn't put it beyond him — the man can act. At the moment, the role looks like it'll be a one-off guest star, but I'm sure I'm not alone when I say that it would be absolutely fantastic to see Cusick recur.
Cusick, of course, starred on LOST, which was also created by J.J. Abrams. Writers Jeff Pinkner and David Fury have also worked on both shows. Star Lance Reddick appeared in a recurring role on LOST, and LOSTÂ star Jorge Garcia had a guest role on Fringe. There is plenty of overlap between the two shows, but we get excited with every new connection that's made.
Fringe airs tonight, February 10, with the fantastic episode "Welcome to Westfield."