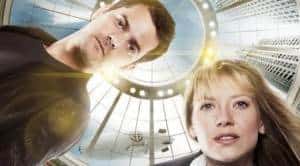 It has been a crazy ride for Fringe fans these past three seasons. For a show that had a less than stellar first season – with a few gems thrown in, of course – Fringe is going into its fourth season as one of the best shows on TV today with great writing, a very complex mythology and a giant and very loyal fanbase. I may be a little biased as I am a huge fan of the show, but it has only gotten better over the past three seasons, finishing its latest season with a bang.
Season 3 of Fringe was probably one of the best seasons that aired in 2010/2011 with a very solid narrative. The ratings, however, haven't been the greatest, as it is usually with genre shows. The time slot on Friday night didn't help either. Fortunately, FOX decided to renew the show for a fourth season for the relief of fans worldwide.
Because of that, Fringe is once again having a panel at Comic-Con and that is happening in just a few minutes. We will be live-blogging all the details and scoop about the new season, so make sure you keep refreshing this page to keep up with what is going on here in Ballroom 20 at the 2011 San Diego Comic-Con.
4:32pm: John Noble thanks the fans for all their support. He says that they know that without the fans support, they wouldn't be here.
4:40pm: They showed a video of several people auditioning for the of Peter's replacement. Lots of great names including, Michael Emerson, Jorge Garcia, Rebecca Mader and Damon Lindelof.
4:41pm: Joshua Jackson has just joined the cast and producers dressed as an Observer.
4:45pm: Producers say Olivia has not mastered her abilities and they have not developed completely yet.
4:50pm: Seth Gabel is officially announced as a member of the cast. He says he has been warmly welcomed by everyone.
4:52pm: Joshua Jackson says the Peter we are going to see in season 4 is a completely different version of the character we have come to known and love.
4:59pm: They are changing it up now and the cast will ask the audience questions.
5:20pm: Very entertaining panel. The cast and producers were very nice and friendly to the fans. It was also great that they acknowledged the fanbase's dedication to keep the show and that they would not be here if it weren't for the fans. They didn't reveal much about the upcoming fourth season and justified it saying that it would ruin the surprise of what's to come.