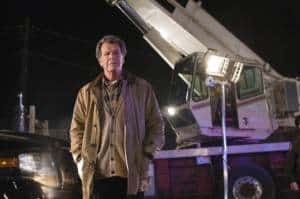 Fringe's third season, though the show's lowest rated, is the best one yet. It's been character-centric like nobody's business, all the while developing pretty deep mythology in the background. The big arc for the season seems to be the Peter machine, which was introduced to us in the two-part season two finale, "Over There." The machine, which Walternate attempted to create with Peter last year, will apparently be a universe-destroyer, considering their universe is getting the bad brunt of whatever is coming from this universe. So, are we ever going to find out what that machine can do?
"The Peter machine is the thrust of the whole season," said executive producer Joel Wyman to E! Online. "It's not going to be frustrating, we promise you that. You're going to get answers, and it's hopefully going to be as exciting for our fans as it is to us. That story is always running in the background. It's a big part where the show is going."
That sounds sort of like a non-answer to me. We want answers!
"You're going to learn a lot more about it a couple of episodes from now," executive producer Jeff Pinkner added.
Pinkner may have been referring to tonight's episode, "6955 kHz," which features the radio-wave theme of an earlier season three episode, "The Box," which also featured deadly frequencies. Fringe airs tonight at 9/8c on FOX.