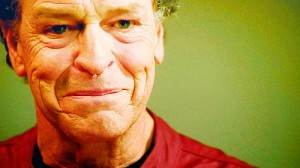 Fringe fans can finally stop chewing their fingernails — FOX has renewed the fan favorite sci-fi series for a fifth and final season of thirteen episodes. The announcement came on Thursday, after weeks of nervous anticipation leading up to the announcement of the fate of the bubble show. Despite the cautious optimism of executive producers J.H. Wyman and Jeff Pinkner, fans were worried that the series might come to an abrupt conclusion in just a few weeks, at the end of its fourth season. Now, however, we have an ending in sight.
In a press release, FOX president Kevin Reilly, an outspoken fan of the show, had this to say about the show's renewal: "Fringe is a remarkably creative series that has set the bar as one of television's most imaginative dramas. Bringing it back for a final 13 allows us to provide the climactic conclusion that its passionate and loyal fans deserve. The amazing work the producers, writers and the incredibly talented cast and crew have delivered the last four seasons has literally been out of this world. Although the end is bittersweet, it's going to be a very exciting final chapter."  
It's not just the end that's exciting — with the show's renewal, it seems incredibly likely that J.J. Abrams will actually get to direct another episode.  "All of us at Bad Robot are forever indebted to our viewers and the amazingly supportive FOX network for allowing the adventures of Fringe Division to not only continue, but to resolve in a way that perfectly fits the show," the co-creator added in a statement.
It's news like this that gives me a little more faith in the power of network television. Fringe has always been a show that deserved its own proper resolution, and the fact that it will actually get one can only be seen as absolutely positive.
The show's renewal also might be partially due to the involvement of Fringinuity, a group of fans who have launched surprisingly effective Twitter campaigns targeting the advertisers for the show — campaigns so effective, as it turns out, that FOX started using them to promote the show, too. If fans of any future shows need somewhere to look for a successful campaign, it couldn't hurt to give those guys a glance.
Fringe will return for the twentieth episode of its fourth season, "Worlds Apart," tomorrow night, April 27, at 9/8c on FOX.