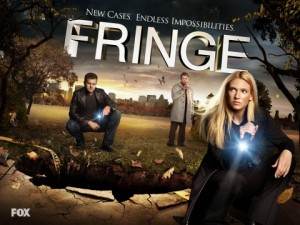 Fringe has a great story in its own right, but like all television, sometimes that story needs a bit of an emotional boost. That's where the music of Fringe comes in.
The show has a sound all its own — it's a unique mix of orchestral and synthetic scoring that mixes in synthesizers with strings to form a strangely tense sound that aids audiences in gripping their armrests whenever Olivia is close to catching a bad guy, or when Walter is making a breakthrough. It works for Fringe like it would for no other show, and that's why I love it so much.
Season one's soundtrack, which featured the J.J. Abrams-composed main title, was released back in April. Fans weren't sure when to expect a second set of songs until Chris Tilton, one of the show's resident composers, posted on Twitter today that we could expect the soundtrack for season two of the show to hit shelves on February 22. "More info to come soon," Tilton teased.
If you don't already have it, you can order the soundtrack over at Amazon.
We'll keep you posted as more details are released about the season two set.