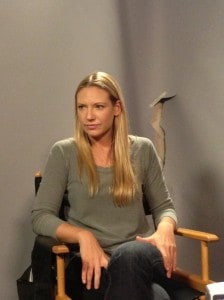 What a long and wonderfully strange trip Fringe has taken us on over the past four season. The Pattern, David Robert Jones, Cross Dimensional Typewriters, Cross Dimensional Love, and, maybe strangest of all, The Observers.  A fifth season of Fringe is certainly a gift for fans as well as everyone who creates on the show, but with William Bell's diabolical plan thwarted in one of the most intense displays of faith and love ever to be seen on TV in the season 4 finale, where do we go from here?  The answer, of course, is … back to the future.
Fringe's fourth season ended on a beat that could have been a satisfying ending for the series, but also a difficult point to re-connect for a fifth season.  Momentum would need to be generated again, and all within a shortened season of only 13 episodes.  But luckily, the Fringe creative bank had a little genius left in its balance and the seeds of season 5 were planted BEFORE the season 4 finale. "Well, we knew that traditionally in the 19th episode spot of each season, we always sort of went off the beaten path and we were kind of throwing around a whole bunch of very interesting ideas on what to do last season." Fringe show-runner J.H. Wyman said recently on a call we participated in. "So, we used that slot 19 to be sort of like a test, sort of backdoor pilot to see, 'Well, let's see how that goes.'  I think when the result of it came in, it was pretty clear and to be honest, me personally I feel in love with the possibilities of telling the story in the future and married that quickly. "
So, they planned for both eventualities.  Smart.  Smart story moves have been the hallmark of Fringe, which has used the unique and often surreal components of its world, a world where the abuses of science often commit offenses against the very substance of reality, to tell character stories with dramatic dynamics that simply couldn't happen in any other story space.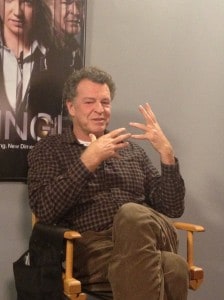 During a visit to the Vancouver set of Fringe*, we were able to connect with some of the leading cast members of Fringe and hear from them first hand how they are coping with a new chapter in the Fringe mythology, one that deals with a very changed world of 2036, where the Observers have turned Earth into a dystopia. It's as apocalyptic an ending as one could ever dream up, and also a setup that seems to promise a fast paced final season for Fringe.
"There's not a lot of dogleg in the story-telling this year, because we don't have much time."  Josh Jackson told us in describing the sense of urgency that fuels Fringe's final season."The MacGuffin of the year works.  In a show like Fringe, but really in most any show, you're constantly trying to create tension with some sort of ticking clock scenario that often times aren't earned. You have to build the entire thing.  This year, the world has been invaded, we are slowly being exterminated, and that's enough.  So the story comes pretty fast and furious."
One outstanding feature of Fringe is the way the characters maintain a sense of history, despite the dimensional and temporal shifts that occur.  Olivia, for instance, spent most of last season as a person who never knew anyone named Peter Bishop, yet the faintest shred of the connection to the world they shared proved too powerful to be contained.  Season 5 also presents huge changes for the characters, but also maintains that sense of history that has made the character work on the series so endearing.
"She's not walking around in her suit, doing paperwork for the FBI."  Anna Torv said in describing the differences between season 4 Olivia and season 5 Olivia.  "She's stuck in this world where the enemy is close, so different sides of her come out. I remember shooting the pilot. You meet her, and people always forget how she was before Fringe [Division] took over her life.  She was glowing, and happy, and she didn't know [about Fringe]. Ignorance is bliss, isn't it?  Then all of a sudden things started to chip away at her, and chip away at her, and chip away at her, and that's why the woman you meet today is a very very different woman to the one who started the show."
John Noble spoke to the larger context of the Fringe team in this new and dangerous future world. "These people have now become the rebels. They, as a team and individually, are public enemy number one. They will become tense, and they will become frustrated with each other, but they have to come back and bond together. It's something I've always wanted to happen on Fringe, where we have a common enemy and we're forced, in a sense, to be the bad guys in the world view."
So there you have it Fringe fans, with many of the series mysteries resolved, Season 5 is looking more and more like a high octane version of the Fringe formula, fueling a story engine designed to take us through a dense, long form arc faster and more intensely than ever before.  Strap in.
The FRINGE season five premiere episode "Transilience Thought Unifier Model-11" airs tonight, Friday, Sept 28 (9:00-10:00 PM ET/PT) on FOX
*Travel and accommodation provided by Warner Bros. Television.
Fringe set interviews and photos conducted and captured by Clarissa, additional reporting by Jon Lachonis.