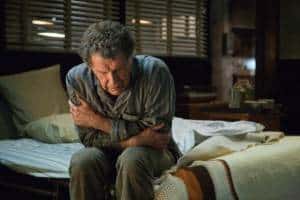 It's time to start biting your nails, Fringe fans. Talks have begun between Warner Bros. and Fox regarding the renewal of the J.J. Abrams sci-fi series, which has been flagging in the ratings for years. The show has a strong (but small) fan base, and with the series appearing to have reached its low point for ratings (it's been steady for a few weeks at about a 1.1 in the adults 18-49 demographic), things are really up in the air.
Season 5 would bring the show to the 100-episode mark, something that would be incredibly helpful in its prospects of syndication. In fact, a thirteen-episode fifth season would bring the number of episodes out to exactly 100, which might be something the networks discuss. After all, Fox is looking for a way to bring Fringe back by cutting how much they pay Warner Bros. per episode to air the series. The fate of the show rests on whether they can work out a number.
"We remain hopeful that Fringe will be able to continue," J.J. Abrams tells TVLine. Abrams indicated recently that he would "do everything in [his] power" to direct an episode of the fifth season if the show is renewed.
Executive producer Jeff Pinkner is similarly hopeful, though he promises fans an upside to a possible cancellation. "Worst case scenario, if this were the last aired season of Fringe… we know what the end of this season is going to be," he told TVLine, "and it can function as a series finale."
I'd much rather have a season 5. We'll keep you posted on what goes down with Fringe.
Fringe airs its next episode, "Forced Perspective," January 27 at 9/8c on FOX.