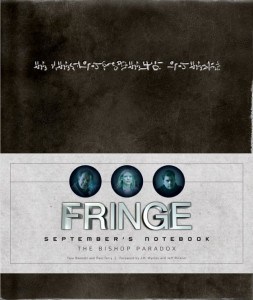 To celebrate the end of Fringe, Warner Bros. and Fox have announced their joint venture with publisher Insight Editions to bring "Fringe: September's Notebook" to fans.
In the January 11th episode of the show, Walter, Oliver and Peter are reunited with September, who reveals that he's been keeping a notebook of his observations over the years.  "September's Notebook" is meant to act as an in-world collection celebration of the Fringe universe.  The book will feature exclusive photos and concept art, and reveals quirks and little-known facts about each character, insight into fringe science and much more. Design features throughout the book build upon the many symbols and codes woven into the show's fabric, uncovering truths never before revealed.
The book spans all five years of the show's mythology and has been in production for more than a year now. and was put together under the guidance of series executive producer/showrunner J.H. Wyman and former executive producer Jeff Pinkner with contributions from the Fringe production department. The author's worked with the show's production team on a daily basis. 
Fringe executive producer/showrunner J.H. Wyman said: "We couldn't have picked a better framework for this book with the Observers. Where we went this season is ultimately so Observer-heavy and it reveals some things that are really mind-blowing. We wanted to include the notebook in this upcoming episode, as it encompasses September's journey from beginning to end. The fact that we are able to share it with the fans, after the episode airs, is truly exciting. September's writing exhibits what he admires most about the human spirit's most beautiful quality – hope."
Fringe's series finale will air as a two-hour episode on January 18th beginning at 8:00 p.m. ET/PT on Fox.  You can pre-order "September's Notebook" at Amazon
.  The book is scheduled to be released on March 12.