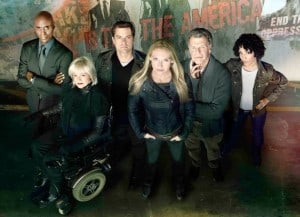 Today FOX announced that the season 5, and series, finale of Fringe will air on January 18, 2013 from 8:00 — 10:00 PM ET/PT with a special two-hour event. It will also mark the 100th of the consistently mind-boggling series.
J.J. Abrams, Co-Creator and Executive Producer, remarks that "It has been an absolute honor to have been a part of the weird and wonderful world of FRINGE. I will always owe the cast and crew for pouring their hearts and souls into every dimension of this series. Creating the show with Bob Orci and Alex Kurtzman was a joy, but watching it evolve over the years into such an imaginative, insane and heartbreaking ride is nothing less than a thrill. I am grateful to our blessed fans, and to Kevin Reilly and Peter Rice and everyone at the glorious Fox network for allowing FRINGE to reach its bittersweet conclusion."
Fringe first aired on September 9, 2008, and has undergone several metamorphoses over the last five years. I'd be hard pressed to name another show that has changed as much as this mind-bending marvel, while still retaining what made viewers fall in love with Fringe in the first place. In the beginning, Fringe was not unlike the innumerable other procedurals that pepper the television schedule, albeit with more science and weirdness. But there were always hints of the threads of a larger tapestry that was just waiting to be revealed. As we've followed the journey of the show, we've seen everything from shapeshifters to parallel realities, complete with doppelgangers, to alternate timelines and various futures. Arguably the most cinematic of the seasons so far, season five has flashed forward to 2036, where the Fringe team is fighting against the Observers, who traveled back from their own future to take over the world from humanity.
Executive Producer and showrunner J. H. Wyman, who will also direct the milestone 100th episode of Fringe, said: "Above all else, from the bottom of my heart, I would like to personally thank everyone involved with FRINGE. From the most amazing fans, to our incredible cast, writers and crew, and our wonderful partners at FOX and Warner Bros. — we would not be here without you. It simply cannot be overstated how grateful I am for the ongoing and unconditional support we have received over the past five seasons. It has been both mind-blowing and humbling. I've always been a fan of science fiction, and to be able to tell this story about a family — a family that, through everything, fought together for survival — has been a highlight of my career. As we approach the final chapter, I can hardly believe it, and I'm just truly thankful for this unparalleled experience."
Even though Fringe has always been about family, whether by blood or by choice, this final season is taking the opportunity to explore the characters and their relationships with each other in even more depth. Last week's episode saw this family dealt a devastating blow with the death of Peter and Olivia's grown daughter, Etta. Tonight's all new episode will reveal how the characters deal with such a horrifying loss.
With nine more episodes left to savour before this remarkable show comes to a bittersweet end, make sure you tune in to FOX tonight at 9:00 PM ET/PT!