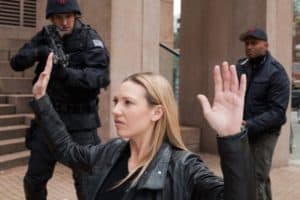 This latest trailer released today by FOX is in the movie-style characteristic of Ari Margolis, the editing guru who's become much-loved by the Fringe fan base. Don't forget that this Friday heralds both the season 5 and series finale of our favourite show, and FOX will air the last two episodes, "Liberty" and "An Enemy of Fate" back-to-back, starting at 8 PM EST/PST. Stock up on Red Vines, and plan your evening accordingly!
The preview is, by every definition of the word, epic. It looks as though "Liberty" will pick up where "The Boy Must Live" left off: Michael has turned himself over to Windmark, and the Fringe team is frantically trying to get him back. Aside from the emotional connection to Michael, he's also the integral component to Walter and Donald's plan to overcome the Observers. Windmark is evidently keeping Michael on a shockingly statue-less Liberty Island, and in order to infiltrate the security of the Observer-held facility, Olivia must turn to Cortexiphan one last time to cross over to the Other Side. Am I the only one who cheered at that?
In keeping with how Joel Wyman et al. have handled this season, it seems as though there will be a number of call-backs and references to everything that has come before. From the trailer, it looks like the finale will not only be one hell of a wrap-up to this crazy ride in 2036, but also a fitting end to our beloved Fringe.
What do you think of the trailer?
http://www.youtube.com/watch?v=x4jptm7Yedo