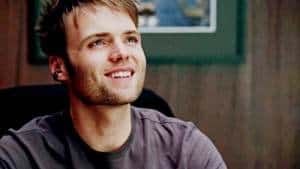 Michael Ausiello has just announced that Altlivia's partner Lincoln Lee, played by suberbly by Seth Gabel in the season 2 finale and in several episodes in season 3, has been promoted to series regular.
We met Agent Lee's doppelganger from our universe in March and, while he is not a kickass Fringe Agent, he still works with the FBI and assisted the team from Over Here to solve a case.
I don't know about you guys, but I am pretty stoked about this news. From the first moment he appeared in the season 2 finale, I liked him on the spot. But as season 3 progressed, he just grew on me so much that – please don't kill me for this – I like him a lot better than Charlie. But hey, that's just me. It will be interesting to see him as a series regular, since we can assume we will see a lot more of him in the upcoming season 4.
I hope this will also give them a chance to explore the feelings between Lincoln and Altlivia. It is pretty clear the guy is in love with her – that scene when Altlivia gives birth after the fastest pregnancy ever was a testament to his very, very strong feelings for his partner. I am not sure how Altlivia feels about him, but I really hope that she gives him a chance. It is obvious she cares about him, but I am not sure those feelings can be considered romantic on her part. At least not yet.
What is interesting is that Seth Gabel has been promoted to series regular, but what about Kirk Acevedo, who plays Charlie? Is he still going to be guest starring or is Charlie meeting an untimely demise, much like at the beggining of season 2?
So what do you think, Fringe fans? Are you happy with the new addition to the cast?