Fringe looks to be wrapping up its storyline of the Olivia swap. Episode 3.07 looks to be one of the final acts of that arc, especially when you consider the press release for the episode, titled "The Abducted." Check it out, and see if you can spot the double meaning for the title:
When a serial kidnapper "over there" strikes again, the emotional and familiar case hits home for Colonel Broyles, sending a determined Olivia to uncover additional details about the abductions. In the meantime, Olivia fights on and reunites with Henry to enlist his services on an intense and covert mission to return home.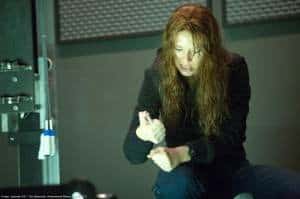 Get it? Because Olivia is abducted as well as the serial kidnapper! That's why the title has a double meaning.
More importantly, Henry is coming back. We knew Andre Royo was coming back, but making his return be this quick is all kinds of awesome. I knew he would be much more important than a one-off taxi driver, and I'm sure he'll have a major role in getting Olivia out of the universe. I would really like to see him come back across with Olivia as well, but that's probably a little bit of wishful thinking.
What do you think? Will we finally see Olivia delivered home in this episode? We can only hope, because the fallout is just going to be intense. I haven't been this excited for an episode since "Olivia." Regardless of the moderately interesting case, "The Abducted" will be an episode to watch, for sure.