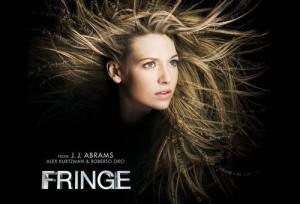 It's been rumored in the Fringe fandom for ages — since the sixth episode of the series ever, "The Cure." It was one of the most chilling parts of the episode (aside from the exploding heads): Olivia got a card for her birthday.
To summarize Olivia's story quickly: When Olivia was little, her stepfather would regularly get drunk and abuse her mother (who we've been introduced to in the alternate universe). Finally, having seen her mother take enough, Olivia found her stepfather's gun and shot him after witnessing one of his more brutal beatings. The wound wasn't fatal, though, and he soon disappeared from the hospital. Olivia never saw him again, but she knew he was alive. Why?
Because he kept sending her a card every year on her birthday.
The story has particularly great creep merits, but after a year of solving cases, I figured that the stepfather had been shoveled aside into the relatively small pile of unused potential plots (alongside Agent Jessup and Klaus Penrose). But, apparently not. Fringe, according to the new website TVLine, is bringing in the ole stepdad before the third season is out.
TVLine's article was more fluff than actual concrete information, but writer Michael Ausiello did mention one cast member he'd like to see play Olivia's stepfather, and that's Gary Oldman. Of course, this is only Ausiello's wishlist, but I have to agree with him on this, simply because Gary Oldman is one of the most brilliant and unappreciated actors of all time.
Whoever plays the character, though, and whatever universe he's in, I have to say I can't wait to see how Olivia reacts to seeing her "evil" stepfather when he turns up again.