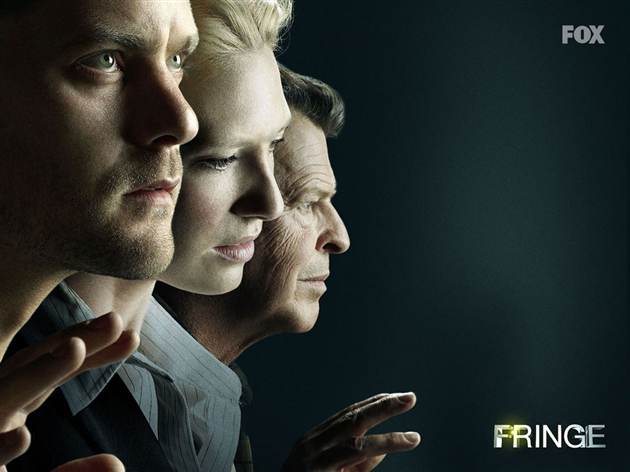 Wow. If you thought FOX had no more tricks up its sleeve, you're certainly wrong. They have quite a few tricks, it seems. THe question is: are they good tricks?
The trick I'm questioning is their January 11 block. Sure, they've moved the return of House back two weeks to this date, but they're also following up House will a new episode of Fringe instead of House's usual follow-up Lie to Me. Want to know why that's even stranger?
The new episode of Fringe won't be from season two.
I'll give you a moment to pick your jaws up from the floor.
No, we're not catching a glimpse of Fringe's future, but rather of its past. The January 11 episode of Fringe will be an outtake from season one. That's right — an entire episode was nixed from the first season, and only now do they see fit to tell us.
Fringe did have a strangely short first season, with only twenty episodes. The original order was 22, but this was mysteriously cut back. This is obviously one of the two nixed hours. Is there perhaps a second episode that has been shielded from our eyes?
The content of the episode, titled "Unearthed," is unknown, but it is known to feature the recently deceased Charlie, who was killed in early season two by an otherworldly soldier. It'll be good to see Kirk Acevedo's familiar face back with the Fringe team.
That doesn't mean that there still aren't a lot of questions. Let me express my incredulity in bulleted form:
Why was this episode cut?
Who made the decision to cut it, FOX or the producers?
What story content was in this episode that we've missed out on?
Where was this episode supposed to fit in during the rest of the season (we can't know if it takes place immediately after the pilot or shortly before the season one finale)?
Why now?
While I am excited to see this new episode, I have to say I'm a little uneasy about this whole thing. For a serialized drama such as Fringe, ripping out episodes isn't exactly the best thing you can do for the story. For instance, if you just ripped out any episode of Lost, even an inconsequential one like "S.O.S.," you'd still be as confused as hell. Is there some reveal that we missed? Is there a stutter from the first season that would have made more sense if we'd seen this episode?
If you can't tell, Fringe is one of my favorite shows, and I really hate when networks intervene so intrusively with a great show such as this. In any case, I'll be tuning in to this episode, even over the return of Chuck. Sorry Mr. Bartowski, but Dr. Bishop takes priority on this one.
Fringe's second season proper will actually return on January 7, the Thursday before this misplaced episode airs (which means two episodes in one week! Hooray!).