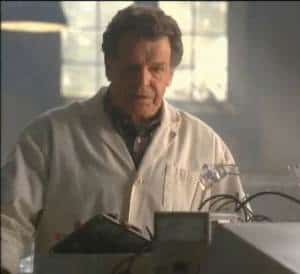 Okay – I don't know what else to say here but hold your breath people! The following two video clips let out some of the most exciting possibilities for Fringe. My hair is actually standing on end.
In the first, we see a sort of word association game featuring Executive Producers Jeff Pinkner and J.H. Wyman.
Alternate Mr. Jones (Jarred Harris) – YES!
Alternate William Bell – No
A Third Universe – ABSOLUTELY (a merge?)
A Walter/Walternate face-off – Absolutely, 100% GOING TO HAPPEN
Alternate Nina – we may indeed meet her
Alternate Lincoln Lee from our side – ABSOLUTELY, we'll meet him very shortly (yay!)
Observers (the missing Months) – For sure
The Second People – Nope
Robert Bishop – Perhaps (hmmmm)
Rogue Observers – You will definitely know what a Rogue Observer is and that there may be more of them (!!)
The Return of Leonard Nemoy – PLEASE! That would be awesome, wouldn't it?
Wow – that lightning round of word association made me tingle all over. Remember, these guys have the story plotted out through season five and into the beginning of season six. Yes. That far in advance. May the ears that hold the key, hear our plea – more seasons!
The second video – Walter has found a "soft spot." What the heck is that? Could it be a way to somehow merge the two universes we're currently exploring into a third? And what will happen to our double characters? Might they somehow "merge," as well? Peter would be left out for sure (he's going nowhere), but perhaps Walter(nate) would become one person? Charlie alive without spiders roaming in his blood, the Olivias truly melded into a perfect woman for Peter (or, as I refuse to discount him, Frank)?
If we go the way of a true science fiction genre show, the sky is the limit. As Walter says, "Oh, I'm sorry, if at this moment, when the universe is collapsing, I forgot the magic word." Please (I'll invoke the magic!), please let these opportunities come to fruition!