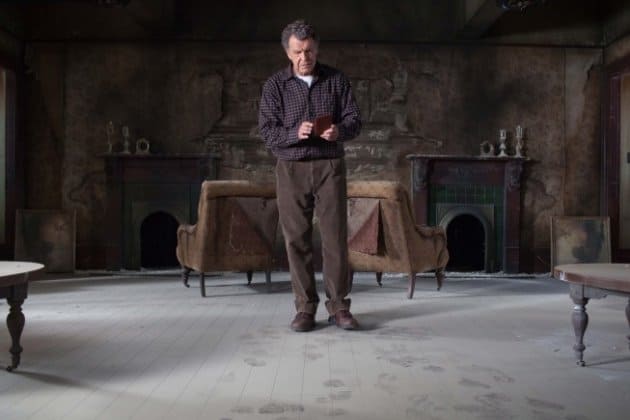 During a recent WB-sponsored writers' trip to the Fringe set in Vancouver, some of us had an opportunity to watch them film a scene for this Friday's upcoming episode.  The episode, "Through the Looking Glass and What Walter Found There", finds the Fringe team searching for the next crucial piece of the plan to defeat the Observers.
Olivia and Peter reunite after spending much of last week's episode apart and the two of them head to Walter's lab.  Astrid has some bad news: Walter has disappeared.  A new tape has been removed from the amber and the team settles down to watch it.  This video provides the group with an address that will lead them to the next clue.  A preview for the episode shows us that this address and the building leads to a sort of vortex – or a "pocket universe" – that Walter must travel into in order to retrieve the next part of the plan.  The scene we observed being filmed involved Walter doing a complicated sort of "hopscotch" to, presumably, find the exact entrance point for this strange dimension.  But the team runs into danger when the Observers catch up to them.
Watch two clips below and tune in to Fringe on November 9th at 9:00 p.m. ET/PT on Fox.
http://youtu.be/qBAR2Fo5Pjw
http://youtu.be/SUaUIFvWliI