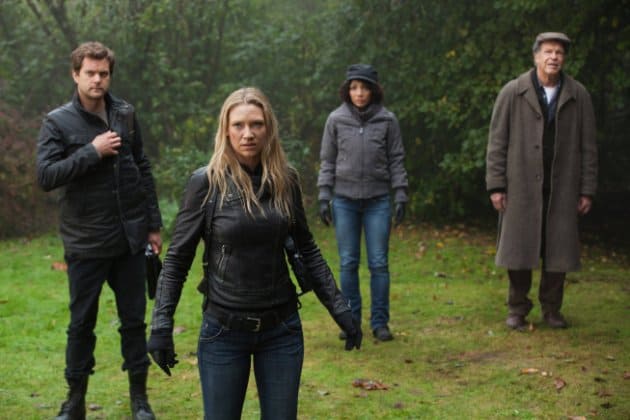 Last week's Fringe episode "The Human Kind" saw Peter relinquish the Observer technology he'd put in his own head in order to try and avenge Etta. Ever since their daughter's death, Peter and Olivia have been struggling to come to terms with the tragedy: in their grief, it seemed as though they might once again lose each other. Hopefully the removal of the Observer tech marks the turning of a corner.
Tonight's new episode, "Black Blotter" seems to be set to refocus the team wholly on the plan to defeat the Observers. The radio in the sneak peeks appears to be the one from the episode "Through the Looking Glass and What Walter Found There", in which the team ventured into a pocket universe in search of clues and retrieved a radio tuned to a specific frequency. This means we'll be getting some more information about the mysterious "Donald" who apparently played a large role in Walter's planning in 2015.

It's also evident from the previews that Peter is suffering side-effects from the implant he put in his head: not surprisingly, he's experiencing headaches and insomnia. I'm curious to see whether there are any other effects. Will he retain some of the Observer-like abilities he'd gained? We know the implant was altering his brain on a physical level by creating new neural connections and expanding his neocortex. Are these changes irreversible?
If you've been feeling a little nostalgic and missing the lighter tone of some of the earlier seasons, tonight looks to be just the episode for you: Walter breaks out his old friend LSD, a blend known as "Black Blotter." Tune in tonight to see what else Walter hallucinates while tripping besides Carla Warren (his old, dead, lab assistant) and Tinkerbell!
http://youtu.be/bZ8E10Pkpek
http://youtu.be/_144f8mHk8c
http://youtu.be/HxbKCg0g5W8