The following article was originally posted on Walter'sLab.com. You can read the original article there.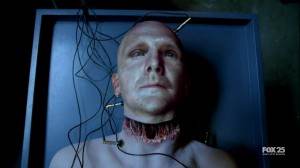 While Fringe's Observers are indeed some ambiguously moraled baldies, they're not who the title of this article refers to. Instead, I'm referring to the head we last saw back in 'Momentum Deferred.'After that one appearance, we haven't seen a reappearance, even though we saw his head being attached to a cybernetic body at the end of the episode. Worried that the writers had forgotten about this First Wave man? Worry not. In fact, they've already given him a name: Newton.
'Our next interaction with Newton, our bad guy played by General Hospital's Sebastian Roche (don't let his soap opera past fool you – he's a good actor), is the episode that comes right before we break for the holidays,'says executive producer Jeff Pinkner to TV Guide. He's talking about the tenth episode of the season, 'Grey Matters,'which airs December 10.
What can we expect to see from this otherworldly supersoldier? Pinkner's not telling, though he did happen to spill the beans on an episode that's coming after the Christmas break.
'[In the episode] They go to a town [to] investigate a fringe event that is very bizarre and realize that nothing there is what it seems…it's all about perception and reality. Are you really seeing what is actually there?'
I can see Walter now, stumbling through the town, asking everyone around him if they remember him taking any homemade LSD. Sounds like a good episode.
In the meantime, we'll have to settle for the two week break in between this week's 'August'and the next episode, 'Snakehead.'It's going to be a long wait. We'll keep you posted on any more developments that come up.