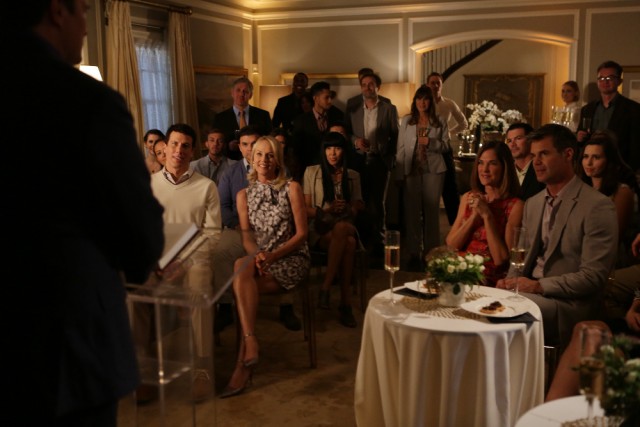 This Valentine's/President's Day weekend Castle viewers will get a double-dose of the show with Castle 8 x 10 "Witness for the Prosecution" airing Sunday  at 10pm EST while Castle 8 x 11 "Dead Red" will run in its normal Monday night timeslot.  What's Sunday's episode all about? Here's the ABC plot synopsis:
Castle finally gets his day in court when he takes the stand as the key witness to a murder from five months ago. But when new information suddenly arises, he and Beckett must race against the clock to prevent a miscarriage of justice.
Castle 8 x 10, "Witness for the Prosecution"  is an episode that's been discussed before: you can read more about it in our earlier January spoiler round-up for Castle.   There was however a key point  that was made  by the Castle showrunners  that is good to recall.  In this episode the famous writer turned not so famous P.I. Richard Castle (Nathan Fillion) will be spending some time "revisiting" some things that have occurred over the past few seasons…which certainly seems to happening in the newly released sneak peek.
[youtube https://www.youtube.com/watch?v=e8nEAISBXS4?rel=0&showinfo=0]
For those who have been Castle viewers for a long time, it's difficult to not compare this to last time Castle and former NYPD detective now NYPD Captain Kate Beckett (Stana Katic) were secretly dating… Remember this classic scene?
[youtube https://www.youtube.com/watch?v=zvqsQrOyw0U?rel=0&showinfo=0]
It's still the best handshake ever – and the best secret signal. That scene was sexy. heartfelt, and humorous. This Castle season 8 episode 10 sneak peek just doesn't measure up. Instead it makes me worry about what else the episode will revisit.
The good news is that whatever other past events are looked at will most likely be done via Castle's testimony. Let's hope it's done the way clips were used in the season five episode, "Still" and not be more attempts to rewrite or reframe classic scenes. Â After all, "Still" was an excellent episode!
On a lighter and happier note, Fillion will be live-tweeting this episode  – and he won't be alone!
Castle is going to be on Sunday, because it's for lovers. I'm having a bunch of peeps over to live tweet the episode. Will you be there?

– Nathan Fillion (@NathanFillion) February 13, 2016
Sounds like fun! There are a number of Fillion pals in this episode.  Darlene Vogel, Kassie DePaiva and Tuc Watkins are all alumni from the ABC daytime soap-opera One Life To Live – which was Fillion's first foray into television.  Depaiva and Watkins were actually on during his time there, so it's a real reunion!  
Plus, who knows, maybe some of Captain Mal's crew from Firefly will drop by?  We don't know, but if you aren't a usual twitter user a Fillion twitter party seems like a good reason to try out that app Sunday night!  Don't forget that a new Castle  episode will air at its usual time on Monday!  Stay tuned for more updates on Castle 8 x 11, "Dead Red"!