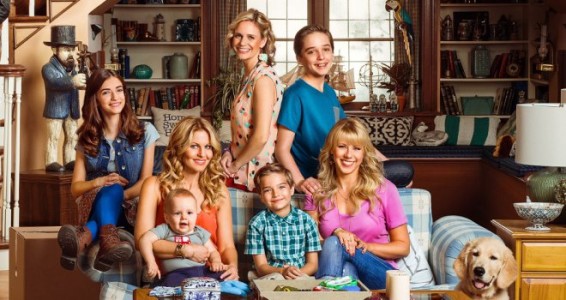 The day has finally arrived. No, it's not the exact day Netflix will unleash all 13 episodes of Fuller House for our binging pleasure, but it is at least finally the same month that our lives will become full(er) again. That's right, kids… 25 more days until our glorious return to predictability… the milk man, the paper boy and evenin' TV.
Whether you were a fan of the original series when it first aired, or jumped on board as it aired as reruns in syndication, the reboot promises to offer something for all of us fans: that good ol' fashioned Tanner family love. Last night as I was reviewing Grease: Live, I noticed the Fuller House set, where Ana Gasteyer was jamming to the opening song. (Check out my review and read where I noticed it here.) As Andrea Barber (the one and only Kimmy Gibbler, of course) was catching the west coast airing hours later, she, too, noticed. (Great minds think alike. I've always felt that I've had the spirit of Gibbler running through my veins.)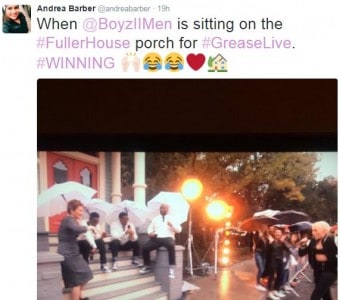 I love when my worlds come full circle. (Or should I say fuller circle?) As Carly Rae Jepsen played Frenchy in a musical that had a cameo by that famous House, she is also set to perform the theme song to Fuller House. Â I am beyond anxious for this new journey with the old gang, and am still trying to decide if I binge or pace myself to make it last longer.
It will be a practice in the ultimate self-control should I choose to watch the series as if it were week-to-week, but I don't know if I have that in me. (Good thing I still have 25 days to decide.) I am already planning on a second season (don't go breakin' my heart,Netflix), and I haven't even given up hope that Mary-Kate Olsen will return as Michelle Tanner.