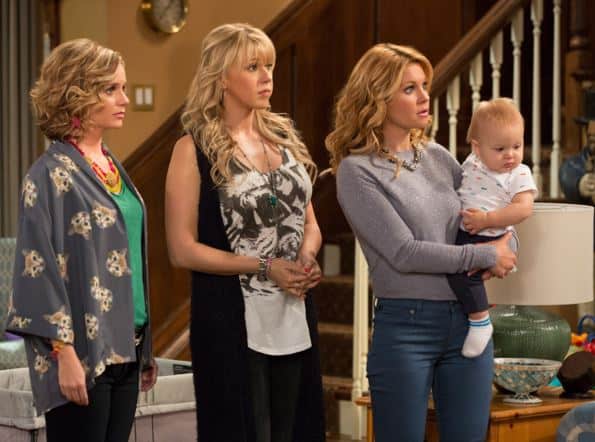 If you are someone who has been enjoying Fuller House on Netflix and wants to see more of the Full House revival, you've got it, dude! The series, which debuted all 13 episodes of its first season this past Friday, has been renewed for Season 2.
The announcement was made on Fuller House's Twitter, which tweeted out "Your list will get even fuller," promising a second season of the Netflix revival is "coming soon." The renewal for the show comes despite it receiving universally negative reviews from critics and mixed reception from fans.
Fuller House centers on a pregnant and recently widowed D.J. (Candace Cameron Bure), who lives in San Francisco. Her younger sister, Stephanie (Jodie Sweetin), who is an aspiring musician, and lifelong best friend, Kimmy (Andrea Barber), also a single mother, decide to move in (bringing Kimmy's spirited teenage daughter, Ramona, with them, of course) to help take care of D.J.'s two boys, the "rebellious" J.D. and the "neurotic" Max, along with her soon-to-be-born baby.
Additionally, Bob Saget, John Stamos (who serves as an executive producer on Fuller House), Lori Loughlin, and Dave Coulier all appeared on the Netflix series throughout its first season. There's no word yet on whether or not they'll be back for Season 2, and if so, in what capacity.
As mentioned above, all 13 episodes of Fuller House's first season debuted on Netflix this past Friday. Check out the official Season 2 announcement below:
Your list will get even fuller.

Season 2. Coming soon to @Netflix. #FullerHouse 👍❤️🏠https://t.co/aEdTwbLDLM

– Fuller House (@fullerhouse) March 2, 2016
[Photo via Netflix]