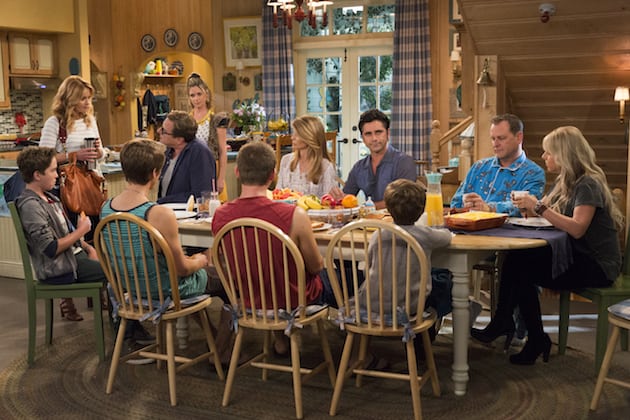 Fuller House makes its debut on Netflix today, with its entire first season now available for any and all Full House fans to binge-watch over the weekend. And while it appears that a great deal of the revival will rely on nostalgia, there are some new things that viewers can look forward to when they tune in to Fuller House, one of them being an updated theme song.
Pop star Carly Rae Jepsen, who most recently appeared in FOX's Grease: Live, sings the Netflix revival's opening tune, which is a more modern, high-energy version of Jesse Frederick's original Full House theme song, "Everywhere You Look." Jepsen collaborated with writer/producer Butch Walker for the cover, which they clearly hope fits the new show just as well as the original fit Full House.
For those of you who have begun watching Fuller House and had a chance to listen to theme song, what do you think about it? Are you a fan of this updated version of "Everywhere You Look"? Comment below and let us know.
Fuller House centers on a pregnant and recently widowed D.J. (Candace Cameron Bure), who lives in San Francisco. Her younger sister, Stephanie (Jodie Sweetin), who is an aspiring musician, and lifelong best friend, Kimmy (Andrea Barber), also a single mother, decide to move in (bringing Kimmy's spirited teenage daughter, Ramona, with them, of course) to help take care of D.J.'s two boys, the "rebellious" J.D. and the "neurotic" Max, along with her soon-to-be-born baby. Additionally, Bob Saget, John Stamos (who serves as an executive producer onFuller House), Lori Loughlin, and Dave Coulier will all appear on the Netflix series in different capacities throughout its first season.
As mentioned above, all 13 episodes of Fuller House's first season debuted on Netflix today. Listen to the updated version of the theme song below:
[Photo via Netflix]