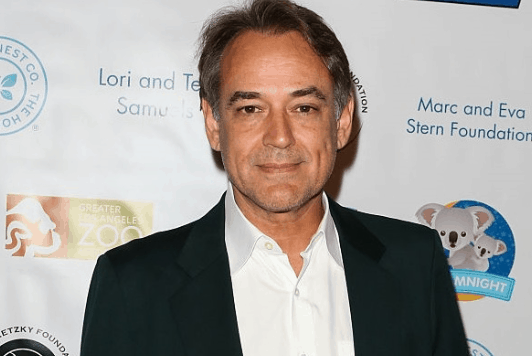 General Hospital fans know that Jon Lindstrom is a man with a lot of talent, and he's shown us that talent more in the past six months than ever in his role on General Hospital. He is Kevin/Ryan, a set of twins in which one is a lovely and good man, and the other is a psychopathic serial killer who is not looking out for anyone other than himself. And he was certainly given a nomination for his roles this year for the 2019 Daytime Emmys. He did not win, but he also lost to his own costar, so it's probably a little bit difficult to get mad at that, if you ask us. He is a man with talent that's difficult to beat, and it makes us want to get to know more about him. We are taking it upon ourselves to highlight all who were nominated for Emmys in 2019 whether or not they won, and he gets to take one of the top spots on our lives of awesome people.
He's a Musician
What surprises some people is that Lindstrom is not a man with just one talent. He might be a totally amazing actor who makes us believe that he is a homicidal twin or that he is a good man who has a big heart and wants to do the right thing all on the same day, but he is a man who also has another kind of amazing talent. He's a drummer. And not just a casual drummer, either. He's a really good one. He's so good that he has two hits on the Billboard charts. That's right, fans, he's a real musician. He belongs to a band called The High Lonesome, and he's quite good. In fact, he's been part of that band for so long it's hard to believe it. He's also a the writer director, and producers of a feature film, and that's another thing to put on his long list of talents.
He Was On Another Soap
It's not a big secret that many of the men and women in the soap industry came from other soaps at one point or another. It really is a big family in between all the daytime soaps. You see, there is a lot that happens in one day in the soaps, and it's a lot. Not just anyone can take this schedule and work with it. Even some of the most talented actors in the world find it difficult to get on board with the kind of learning that has to be done on a soap. You get 20 to 30 pages of dialogue each and every day to memorize and take in, and that's not always easy. It's not a job many people can handle on their own, which is why the come and go from so may shows. Lindstrom is a man who worked long and hard on "As the World Turns," which is one fans love, and they never stopped loving it even after it was cancelled.
He's A Married Man
Another fun fact that you might not know is that Lindstrom is a married man, but not just to Laura on General Hospital. She might be his literal work wife, but she is not his real life wife. He is married to his former As the World Turns co-star, Cady McCLain, who is equally talented and amazing. They've been married since 2014, and they have a fun life together. But, another fun fact is that she is his second wife. That's not super uncommon in Hollywood, but did you know that he was married to another soap star before he was married to his wife? He was married to Young and the Restless star Eileen Davidson for many years. Well, for three years. They got married in 1997 and they ended up divorced in 2000. She's been with her current husband for many years as she met him soon after that, and their lives just sort of parted ways. They don't seem to have any real animosity toward one another, which is a nice thing to have when you work in the same place and do the same thing most days. It's good.