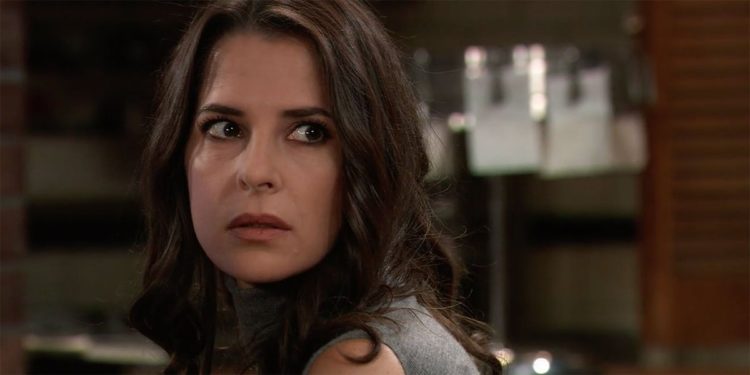 General Hospital fans apparently have a very love/hate relationship with Sam. She's a woman who is kind of quiet. She tends to keep her life to herself while she works out her own issues rather than going to others and asking them to help her out. She's not someone who likes to make much of a fuss of things in her personal life, and she can be cold and distant when she wants to be. She's someone who is also quick to laugh, she'd do anything for her friends and family, and she's constantly working on bettering herself. She's made some big mistakes (sleeping with Sonny while he was married to Carly and getting pregnant, for instance) and she's working hard to be the best version of herself. But, she's a fickle character at times. You either love Sam, or you hate her. We love her, so we want to share a few things we think are so fun about the actress who plays Sam, Kelly Monaco.
She Got Her Big Start with Playboy
She's a private woman. She always has been, and we love that about her. For one, we do need to mention that she spent nearly 18 years of her life with the same man, and she never allowed anyone to take a photo of them together. That's a solid two decades of keeping her romance totally and completely private, which always makes us wonder how she went to dinner, or how they went to the movies, or if they ever went on vacation or Christmas shopping together. We have to assume not, or that they picked some very remote locations. They did end things in 2009, though, so there was also that one small detail about how no one really had smart phones and social media or the internet for almost all of that relationship.
Despite her private life, though, she's able to be very open with the public. She was a Playmate many times over, and that's how she got her start modeling. She was the playmate of the month in April 1997, and she spent many of her days in the 90s being featured in the magazine in many other special shoots She also modeled for Maxim and was a hot 100 for them more than one time.
She's A Body Double
She's been a woman with a lot going on, including being a lifeguard when she was younger, which then turned into being a lifeguard backup for a fake lifeguard on "Baywatch," over the years. That's right. Before she was famous enough to be in front of the camera as the star, she worked as the body double for a famous "Baywatch" actress, Carmen Electra. We all know that she was also Susan on the hit series, but she also doubled as the double for Carmen since Carmen couldn't swim. If Electra's character needed to be in the water, Kelly Monaco was the woman that they shot to get the scene handled since Electra was unable to swim and did not learn.
Best Friends with the Enemy
One of the best things about General Hospital is the icy, frigid relationship between Sam and Elizabeth. They have a very tumultuous relationship thanks in part to the men in their lives, mostly Jason. He was best friends with Liz for many years, and he accidentally fathered a child with her, and that wasn't something that really made Sam feel all that warm and fuzzy about. The two get along when they have no other option, but they refuse to be friendly with one another if the kids aren't around. However, they are real life besties. They get along very well, and they've been very close friends for a long time. They are something special, and we love that they can be so awful together on the screen – so mean and disrespectful and low-key rude – and then they are the best of friends when the camera stops rolling. That's a beautiful thing to have with a good friend, and we are not that mad about it when we get to see them smiling and laughing together in real life. It's a fun thing that fans should know.