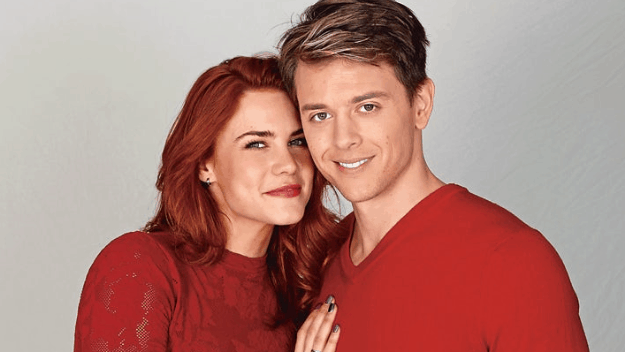 The Bold and the Beautiful fans often get the shaft when it comes to things like the Emmys and other situations. They have a much smaller cast. They have a half-hour show, and they don't get to see as many of the actors and actresses on the show nominated for their awards. We think it's unfair in many ways, because there is so much talent on the show. There was a big winner in the outstanding actress category this year as Jacqueline MacInnes Wood took home the win, and we could not be any happier about that. She took this year by the horns and made it her own. As you've noticed, we've been highlighting the nominees and the winners recently, but we are all out of nominees and winners in LA. That means we want to bring you a slightly different take on things. We want to bring you the woman we thought should have been nominated for the outstanding supporting actress role from the show. That woman is Sally Spectra. Courtney Hope brings this character to life, and she actually gave us life this year. She's nominated for the win in our hearts.
She's a Born and Raised Texas Girl
She might work and play in LA now that she's a famous actress, but she didn't always live here and love her. She's an actual born-and-raised Texas girl. She was born and raised in Dallas, and that's something that we love about her. She's a Texas girl through and through, and we think that it helps shape her personality in so many ways. She's strong, she's courageous, and she's not someone who backs down in the face of adversity, which is a super cool thing about her. She's in California now, but that doesn't take away from the fact that she is a Texas girl all the way.
She Was Afraid of Dogs
She's not anymore, but there was a time when she was terrified of dogs. She was only 8 when a dog chased her, and she was terrified of them from that point on. She wasn't willing to have one, she was afraid of them, and she didn't like them as a young person. Her family did not have dogs growing up as a result, and that is something we get. There are too many people in the world who don't take care of their animals enough to ensure that they are well-behaved, and that can lead people to develop an unhealthy fear that is not accurate.
Of course, for a child of 8 who is being chased by a dog that probably seems larger than life, we get it. We'd be afraid, too. Kids can be very sensitive, and we get that it's easy for them to feel that this is their reality. Of course, now she has numerous dogs, and she adopts them all from shelters because she knows that dogs need love and they need families. She loves that, and we love that about her.
She's Got A Famous Boyfriend
If you also watch General Hospital, and we know you do, you know that she also has a connection to that show. She met Chad Duell, who plays the very sweet but unfortunate Michael, a few years ago at a party. They hit it off, and they have been dating ever since. They have a sweet romance with one another, and we do love to see them together. They have their dogs, their life, and they like to keep their situation low key and not in the press. That's something we love about them considering how young they are and how hard that is for so many people to deal with. It's not always easy to focus on your relationship when you are both famous actors who work long, demanding hours, but they have found a way to make it happen, and they seem to be pretty good at it. They seem like the type who might be in it for the long haul, and we also love that about them. We are rooting for them, and we hope that you are, too. She's got it going on, and we love it.