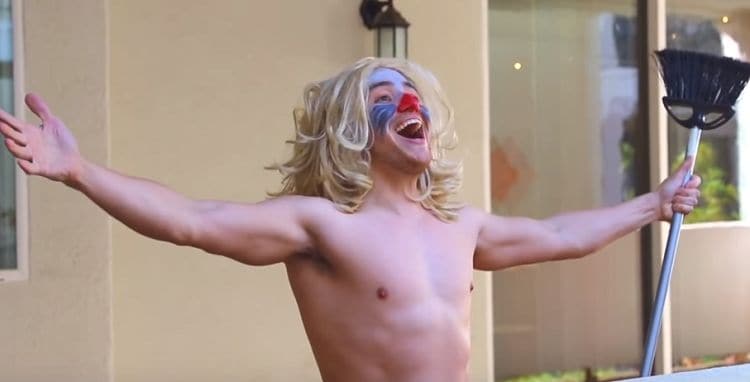 Do you get the feeling that Kurt Tocci is a little cooped up just like the rest of us? You could say that dressing up as various Disney characters and reworking the song to fit in with the current social distancing trend is cute and definitely capable of getting attention, and you'd be mostly right. There are plenty of us that are going to cringe when we watch this since it's the kind of video that's basically there to get attention and to make people aware that Tocci is in fact a fun-loving individual that just likes to show up and amuse people as Joseph A. Wulfsohn of Fox News might agree with, but there are definitely others that might want to state that like so many other celebs, Tocci is getting tired of being on quarantine. At the very least he was in the mood to entertain others as he did what he could to keep the boredom at bay, and his impression of several Disney characters was close enough if not spot on to be kind of entertaining. Listening to various characters sing about the coronavirus and the effects it's had on society has managed to gain Tocci millions of views that may or may not have been as numerous had the lock down and quarantine procedures been set into place a short while ago.
If you don't know who Kurt Tocci is it might be time to sit down and brush up on your knowledge of Instagram stars and other celebrities since he's been around for a little while and is apparently known to many viewers that have taken to enjoying him online. In a way he's one of those that shows that you don't have to spend years taking acting classes to get famous, all you need is a marketable hook and a decent chance of getting noticed by enough people that can help to bring you some sort of fame and popularity. Online personalities have really blossomed in a big way since social media and YouTube opened up shop, and getting noticed has been just one funny video away in the case of some people. Some of those that have appeared over the years have earned their spot in show business and have shown a great deal of talent in the process, while others make a person wonder just what in the heck the criteria might be for getting people to notice you since there are some out there that are truly cringe-worthy. It's easy enough to criticize a lot of them, but it's also easy to give props to Kurt Tocci since he is entertaining in a certain way, even if there are a couple of moments when a person might look away with a grin thinking that Tocci is kind of a nut. Ah well, he's having fun and obviously trying to entertain others, which appears to have worked according to the many views the video has received since it was first uploaded.
One has to wonder why he picked Disney characters, but perhaps it was just one of the easiest ways to bring songs about the coronavirus and social distancing to life. Who knows? It was entertaining enough to be called 'good' and definitely managed to get the attention of a lot of people so thinking that it's goofy and kind of cringe-worthy is all well and good since those are just opinions that many people possibly share, but the fact is that it did manage to get attention and is likely considered a big win by Tocci, who might be showing up eventually in another video just to entertain the people. At this point it's actually a public service that a lot of people are performing, no matter how annoying or cringe it can be, to keep a smile on the face of those who are watching. Otherwise the depressing parts of life might seep in a little too deeply and people might be reminded, as usual, that we can't go anywhere, can't do anything, and can't hang out with who we want to, because of this stupid virus. One can only hope that the coronavirus will run its course eventually and just head out, hopefully not to be seen again for a while, if ever. The likelihood of never seeing it come up again isn't too strong since like any virus it's bound to stick around for a long while, but having a vaccine created for it eventually would be nice and it would be great to think that humanity will be safe from it in the future.
Until we can leave our homes for more than just a grocery run or an emergency though, Tocci and many others like him are no doubt going to keep doing their best to entertain us. Emille Crawford of Inside the Magic has more to offer on this topic.