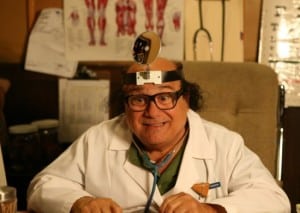 FX has announced the return dates for It's Always Sunny in Philadelphia and The League. On Thursday, October 11th at 10:00, the prior returns for its 8th season documenting the gang from Paddy's Pub; this season, the gang will be going to therapy and hunting Nazi treasure, while Charlie finds love, Frank goes into business, and Dee gets obsessed with computer games. The latter will be following at 10:30 the same night after the 2011 fantasy season in controversial fashion, all viking pyres and unofficial champions. Which member of The League will come out on top this season and thwart another reign of Ruxin?
Additionally, the network has confirmed the start dates for both of its fall dramas. Beginning on Tuesday, September 11th at 10:00, the fifth season of Sons of Anarchy will kick off with a 90 minute premiere. Now that Jax has ascended to the head of the SAMCRO table, he will have to protect his family from the threat from RICO (and another, potentially more dangerous foe lurking in the distance), in addition to keeping his distance from Clay. The season will feature guest stars including Harold Perrineau and Jimmy Smits.
The second season of American Horror Story, subtitled Asylum and set in a 1964 church-ran mental facility, will be premiering on Wednesday, October 17th at 10:00. The show will be bringing back several cast members from its hugely popular debut last year, including 2012 Emmy nominee Jessica Lange, while welcoming aboard multiple new faces, including Chloe Sevigny, Adam Levine, and James Cromwell.
Finally, FX unveiled the premiere dates for BrandX and The Ultimate Fighter. The prior, which debuted this summer, will be returning for a seven episode fall run following the premiere of The League, with the latter debuting another season on Friday, September 14th at 10:00.
What will you be watching on FX this fall? What kind of debauchery would you like the gang to get into this season on It's Always Sunny? Who do you think will win The League this season?