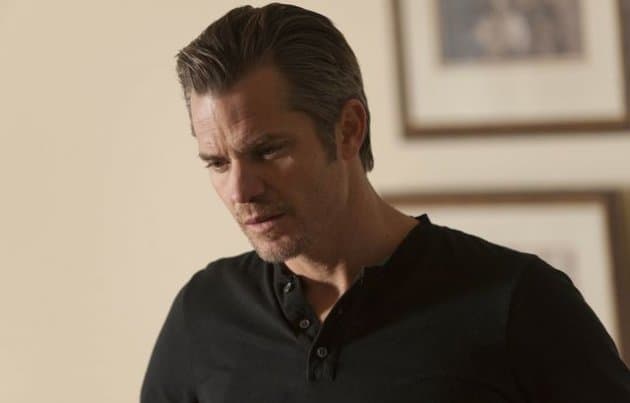 FX has announced premiere dates for its winter 2013 line-up, including the return of two critically acclaimed shows, another cycle of a late night experiment, a new comedy, and the start of the next 90 episodes of another comedy.
On January 8th, the fourth season of Justified will premiere at 10:00 with Raylan picking at a cold case that had been dormant for over 30 years. The more he digs into the evidence of a past misdeed, the more he connects it to his own childhood and, specifically, the man that Arlo once was. Meanwhile, Boyd may have gained control of Harlan, but with a charismatic Pentecostal preacher drumming up support around town, there may be a new enemy to deal with and ultimately bring down.
January 17th sees the return of the FX comedy bloc, beginning at 9:00 with Anger Management. The show will air double episodes on the 17th before settling into the 9:30 time slot; Anger Management received a 90-episode back order earlier this year after its initial 10 episodes provided satisfactory ratings for FX. Original episodes will air over the next two years before the show is officially syndicated. At 10:00 is the fourth season premiere of Archer, the animated spy comedy from Adam Reed that features voice work from H. Jon Benjamin, Aisha Tyler, and Chris Parnell.
10:30 sees the series premiere of Legit, a new comedy that stars Jim Jeffries. It follows an edgy stand-up comedian who moved from Australia to Los Angeles in order to advance his career, though making it in America and transferring his career to "legit" status proves to be harder than expected. Joining Jim are his divorced best friend Steve and his wheelchair-bound brother Billy, so having a support system will mean that he can take a little more occupational humiliation without giving up. Totally Biased with W. Kamau Bell, one of FX's late night shows, will be premiering its latest cycle of episodes dissecting politics, the media, and religion at 11:00.
Which of these shows will you be watching? Can Justified live up to the tremendous crescendo of last season? Will Legit pair well with Anger Management, Archer, and Totally Biased with W. Kamau Bell?