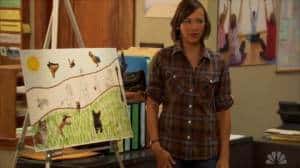 It's not mincing words to call Rashida Jones prolific. The actress has been everywhere over the past few years, from Foo Fighters music videos to The Social Network to that one comedy on NBC that everyone seems to think is the best thing ever (well, it comes close). But the Parks & Recreation star isn't stopping there. Jones is continuing on to raze the television landscape, this time with a guest stint on the upcoming FX comedy Wilfred.
Haven't heard of Wilfred? Oh, it's just a show about a man (Elijah Wood), who imagines (or does he) that he can talk to a giant man-dog named Wilfred (Jason Gann). Sound weird but totally lovable? Totally.
Jones herself will be guesting in the fifth episode of the series, according to TVLine, as "an administrator at a hospice center." Sound boring enough? Well, Jones has proven that she's got pretty major comedy chops — I'm sure she'll make the role quite memorable.
In the meantime, if you want to find out more about Frodo's new dog show (as I'm calling it — he'll always be Frodo to me), keeping checking out TVOvermind for more updates. Wilfred is slated to debut on FX in June.