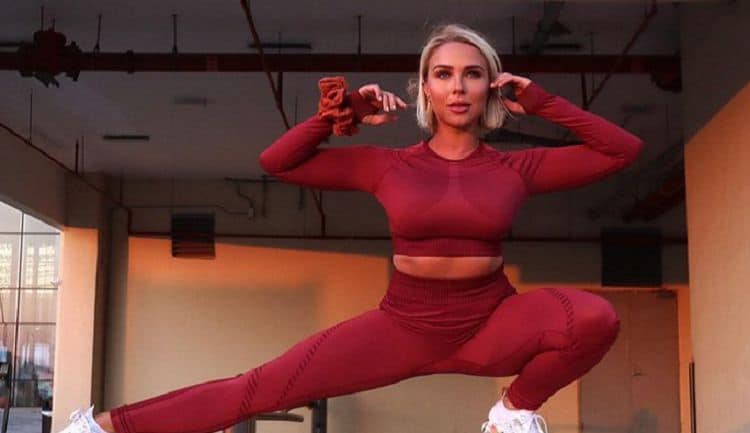 Gabby Allen was introduced to the reality TV world in 2017 when she was a cast member on Love Island. Since then, she has managed to extend her 15 minutes of fame into even more reality TV opportunities. Most recently, she was a cast member on MTV's The Challenge where she was competing for a $1m prize. Even though she's already been sent home from the show, Gabby hasn't let the loss slow her down. She is using her fame to create other opportunities for herself and she's working establish herself as a business woman. On top of that, we'll probably see her back on TV at some point. Here are 10 things you didn't know about Gabby Allen.
1. She Started Dancing When She Was 3
Gabby has always been an active person, even before she got serious about turning her interest in fitness into a career. It all started when she was about 3-years-old and she began dancing dance lessons. Gabby still loves to dance and does so as often as possible.
2. She Loves Traveling
Sitting around and letting life pass by has never been Gabby's style. She loves making the most of every moment and creating as many memories as possible. She enjoys traveling and has gotten the opportunity to travel to different parts of the world. Some of the places she's been to include Dubai (where she currently lives), Greece, and Spain.
3. She's A Brand Ambassador
Since starting her reality TV career, Gabby has also become a social media influencer. She has over a million followers which includes people from all over the world. Thanks to her dedicated fan base she had been able to partner with brands to help promote their products.
4. She's Struggled With Body Image Issues
It's easy to look at Gabby and think that she is always brimming with confidence, but that isn't always the case. Sometimes she doesn't always feel great about herself, but she always manages to keep moving forward and her confidence is something she's always working on.
5. She's Been Accused Of Wrongfully Claiming COVID-19 Furlough Money
Recently Gabby's name has been floating around the blogs, and it's not for a good reason. Several sources have reported that she has been collecting government furlough money that was intended to help businesses that were struggling during the pandemic. Since her business has allegedly not been negatively impacted by COVID, lots of people are raising eyebrows.
6. She Loves Food
Since Gabby is all about health and fitness most people probably assume that she simply eats out of necessity and doesn't really care about enjoying her food. That's not entirely true, though. While she is very cautious about what she puts into her body, she loves to enjoy her food just as much as anyone else. She loves to get creative with her healthy meals and try new things.
7. She Admits Negative Comments Sometimes Get To Her
When you spend as much time on social media as Gabby does, you're bound to run into some negativity. Although she tries her best to ignore the mean comments, it's not always possible. Gabby told Daily Mail, "I've seen a comment on pictures of in a bikini and they've said, "She's got a belly like an old man. She's got no waist, no hips." That's what upsets me. 'People say stuff about things you can't change, unless you get surgery. If I were to get surgery, like BBL, than people would be p**sed off about that. You can't win.'"
8. She Enjoys Interacting With Fans On Social Media
Sure, there are a lot of people with cruel things to say about Gabby online, but there are also a lot of people who only want to show her love. Gabby loves to get on social media and connect with all of the people who support her. During her time on The Challenge she was especially active on Twitter.
9. She Had A Really Bad Case Of Scoliosis
When Gabby was younger, she was diagnose with a severe case of scoliosis that resulted in her having to have surgery when she was 12-years-old. The surgery left a large scar on her back, but it's much better than the alternative that would have happened had it gone untreated. She is now an advocate for scoliosis screenings in schools.
10. She Hopes To Inspire People
Gabby's journey to where she is today hasn't been an easy one. She has worked harder than most people will ever know, and she's thankful for every opportunity that has come her way. She hopes her story will help motivate and inspire others to go after what they want in life and never give up.