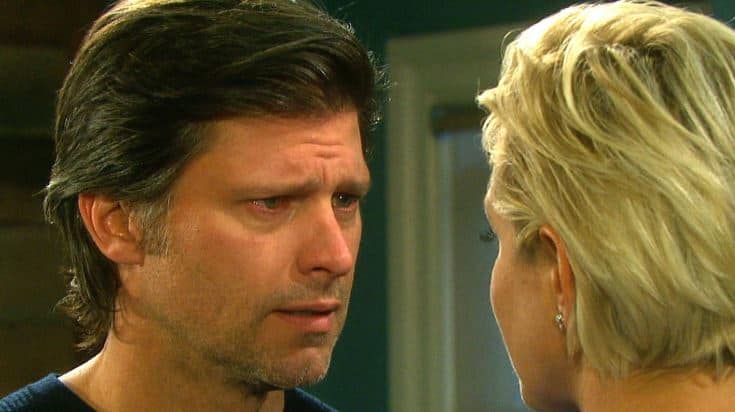 Days of Our Lives fans were not surprised to see that Nicole had some very upsetting news to share when she returned. Nor were we all that shocked to see her say a few things that are shocking to her man. She's back, and she's ready to have Eric spend some time with her. He's doing just that, and it's going to work how she wants. She's looking for him to come back to her, and that's the preview that we saw a few weeks ago when there was a very unexpected couple rolling in the sheets. It turns out that the couple was Nicole and Eric. She might be married to a man who doesn't love her and she doesn't love in return, and he just ended things with Jennifer. It's all kinds of messy right now, and we don't think that any of that will change.
John and Marlena spent some time looking for answers, too. They have to find a way to find out what is going on in their lives, and they have to find a way to let people know they are okay. What happened the day they were meant to be married is such a mystery to so many people, and we don't think that anyone saw it coming at all. There's too much going on in their lives, and they have to get some answers. There's too much they don't know that they have to figure out, but they do have some opportunity to get to situated on their own. Right now is one of those days. Can they figure out what happened when they came in and saw this all unfold, or will they stop what they are doing and really get to know this as it happens? We don't know, but we will see.
What's Happening on Days of Our Lives
We're still in complete shock! #DAYS https://t.co/quVcSPJNRh

— Days of our Lives (@nbcdays) October 8, 2018
We were not in shock. We saw this coming, and we are not at all surprised. He's always been in love with her, and she with him. They have a long history together, and there is nothing that they can do to make this stop in their lives. It's something we all think is amazing.
What's Next on Days of Our Lives
Eric lost Nicole once, and he's not going to lose her again – regardless of what Xander has done. What Days of our Lives, weekdays on NBC. pic.twitter.com/VOqNOsJQqW

— Days of our Lives (@nbcdays) October 5, 2018
Brady is doing everything in his power to make sure that Kristen trusts him. He wants to get her to fall for him harder than she already did, and she wants to believe he feels the same way even though he clearly does not. He's working to gain her trust right now, and it's working for her in a way that might just make them make a bigger mess of all of this. IN the meantime, we are all wondering what will happen with Jennifer. She knows where she stands in terms of Eric and his feelings for Nicole, but her life is a mess and she might just be hoping she can get her own life together enough to make him fall more for her.
In the meantime, we are also worried about Abigail and Chad. They are further apart in their marriage than ever, and we don't know that there is any way we can get this situation to fall into any sort of realm of control. There is too much going on, too much of a mess, and too much of a problem for all of us to get this situation to calm down – but Gabi is not stopping. Her feelings of goodness toward them are not here. She's just not there, and she's not going to realize she's not doing the right thing and make any positive changes. It's not who she is right now, and there's nothing we can do but watch them all continue to spiral out of control.
Stay tuned for more Days of Our Lives and be sure to check out TVOvermind daily for the latest Days of Our Lives spoilers, news, and updates.