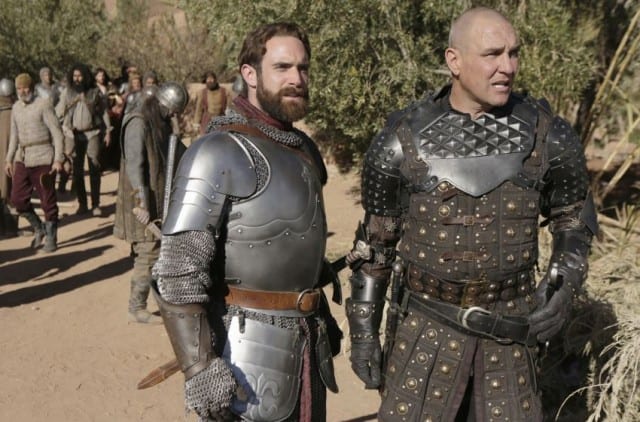 "Way back in days of old. There was a legend told. About a hero known as Gaaaalavaaaaant."
Best get that song stuck in your head now as you prepare to tune in to the season (and hopefully NOT series) finale of Galavant. 
It looks like we are in for a battle of epic proportions, as several separated characters unite toward a common enemy. Galavant, Isabella, Richard, Sid, and the whole gang are involved, and in a bit of meta commentary, note that they "couldn't afford" some of the season's other guest stars. Galavant and Isabella reunite after their previous miscommunication, but will it go as planned for the lovebirds? Or is it too late?
It looks like there will be plenty of action, shifting alliances, and music to boot. Will the Galavant crew be able to once again fight off the cancellation bear? Let's all tune in and do our best to help them!
Check out the official synopses below:
Episode 9, "Battle of the Three Armies":Â In their war against Valencia, all hope seems lost for Isabella and the people of Hortensia until Galavant arrives with his zombie army. Meanwhile, Gareth abandons Madalena after he realizes that she betrayed him and is learning (and using) the Dark Dark Evil Way.
Episode 10, "The One True King (To Unite Them All)":Â Under Madalena and Wormwood's spell, the zombie army revolt against Galavant and company, until Sid arrives with an unlikely army of his own. Galavant, Gareth, and Sid's army battle the Zombies while Isabella fights Madalena. Meanwhile, Richard goes after Wormwood, who attacks Tad Cooper, which provokes Richard to perform a (nearly) heroic act. Elsewhere, Gareth tries to reason with Madalena, but she is driven to learn how to use her newly acquired dark magic. At the end of the day, who will get their happily ever after on "Galavant"?
Also, check out the\ sneak peek below:
[youtube https://www.youtube.com/watch?v=qRm5e-iJUag]
What do you hope to see in Galavant's Season Finale? What do you think will happen? Let us know in the comments!
Galavant's Season Finale airs January 31st at 8/7c on ABC