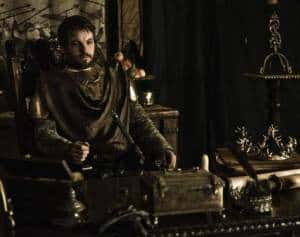 HBO is continuing with their character featurettes as the new season of Game of Thrones approaches. Yesterday we posted previews surrounding Joffrey and Daenerys, but today we have a preview of a character that was not as widely seen in season 1 as the two other members of the main cast.
Renly Baratheon is the younger brother of Stannis and the recently deceased King Robert. Although Ned Stark summoned Stannis to Kings Landing after the death of Robert in order to succeed him on the throne, Renly seems determine to take the crown for himself.
One step in achieving his ultimate goal is allying himself with the Stark family – including Catelyn and Robb. "He's got 22 families behind him and that makes him very, very confident," Gethin Anthony (Renly) explains. Another key tactic is his marriage to Margaery Tyrell (played by new cast member Natalie Dormer). Despite the fact that Renly is engaged in a love affair with Margarey's brother, Loras, this plan is better for everyone involved. "The Tyrells have a lot of money and the Baratheons have the name and the power," Finn Jones (Loras) explains. "So when you put those two together, they're almost like an unbeatable force."
But "Stannis is certainly not prepared to kneel and swear fealty to his younger brother," Anthony explains, so next season of Game of Thrones will have the Baratheons and others fighting for control over Westeros.
Watch a preview featuring Renly's character below. Season 2 of Game of Thrones premieres on Sunday, April 1 on HBO.