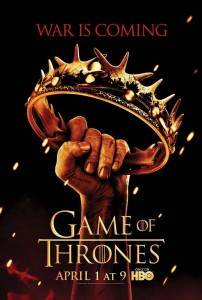 HBO has released the synopses for all April episodes for season 2 of Game of Thrones, which is set to premiere on Sunday, April 1 at 9:00 p.m. ET. According to HBO, here is the official description of the season's storyline:
"War is coming to Westeros. As the cold winds rise and five kings vie for power, bonds are forged and broken, identities are challenged and romance blossoms. With the stakes higher than ever before, who will survive the chaos to claim the Iron Throne? The ten-episode second season of Game of Thrones plays out against the backdrop of a fast-approaching winter — the season of the white raven. In King's Landing, the coveted Iron Throne is occupied by cruel young Joffrey, counseled by his conniving mother Cersei and his uncle Tyrion, who has been appointed Hand of the King.
But the Lannister hold on the Throne is under assault on many fronts. Robb Stark, son of Ned Stark, the slain Lord of Winterfell, seeks autonomy in the North and has taken Cersei's brother Jaime prisoner in battle. Daenerys Targaryen looks to shore up her depleted power in the East with her three newborn dragons. Stannis Baratheon, brother of the late King Robert, rejects Joffrey's legitimacy and aligns with a powerful priestess to raise a naval attack. And Renly, Stannis'charismatic brother, has maintained his own claim since fleeing King's Landing.
In the meantime, a new leader is rising among the wildlings North of the Wall, adding fresh perils for Jon Snow and the order of the Night's Watch. With tensions and treaties, animosity and alliances, the second season of Game of Thrones will be a thrilling journey through an unforgettable landscape."
Here are the synopses for the April episodes. Spoilers may follow, so proceed at your own risk!
Episode #2.01: 'The North Remembers'
Debut: SUNDAY, APRIL 1 (9:00-10:00 p.m. ET/PT)
As Robb Stark and his northern army continue the war against the Lannisters, Tyrion arrives in King's Landing to counsel Joffrey and temper the young king's excesses. On the island of Dragonstone, Stannis Baratheon plots an invasion to claim his late brother's throne, allying himself with the fiery Melisandre, a strange priestess of a stranger god. Across the sea, Daenerys, her three young dragons and khalasar trek through the Red Waste in search of allies, or water. In the North, Bran presides over a threadbare Winterfell, while beyond the Wall, Jon Snow and the Night's Watch must shelter with a devious wildling. Written by David Benioff and D.B. Weiss; directed by Alan Taylor.
Episode #2.02: 'The Night Lands'
Debut: SUNDAY, APRIL 8 (9:00-10:00 p.m.)
In the wake of a bloody purge in the capital, Tyrion chastens Cersei for alienating the king's subjects. On the road north, Arya shares a secret with Gendry, a Night's Watch recruit. With supplies dwindling, one of Dany's scouts returns with news of their position. After nine years as a Stark ward, Theon Greyjoy reunites with his father Balon, who wants to restore the ancient Kingdom of the Iron Islands. Davos enlists Salladhor Saan, a pirate, to join forces with Stannis and Melisandre for a naval invasion of King's Landing. Written by David Benioff and D.B. Weiss; directed by Alan Taylor.
Episode #2.03: 'What Is Dead May Never Die'
Debut: SUNDAY, APRIL 15 (9:00-10:00 p.m.)
At the Red Keep, Tyrion plots three alliances through the promise of marriage. Catelyn arrives in the Stormlands to forge an alliance of her own. But King Renly, his new wife Margaery and her brother Loras Tyrell have other plans. At Winterfell, Luwin tries to decipher Bran's dreams. Written by Bryan Cogman; directed by Alik Sakharov.
Episode #2.04: 'Garden of Bones'
Debut: SUNDAY, APRIL 22 (9:00-10:00 p.m.)
Joffrey punishes Sansa for Robb's victories, while Tyrion and Bronn scramble to temper the king's cruelty. Catelyn entreats Stannis and Renly to forego their ambitions and unite against the Lannisters. Dany and her exhausted khalasar arrive at the gates of Qarth, a prosperous city with strong walls and rulers who greet her outside them. Tyrion coerces a queen's man into being his eyes and ears. Arya and Gendry are taken to Harrenhal, where their lives rest in the hands of 'The Mountain,'Gregor Clegane. Davos must revert to his old ways and smuggle Melisandre into a secret cove. Written by Vanessa Taylor; directed by David Petrarca.
Episode #2.05: 'The Ghost of Harrenhal'
Debut: SUNDAY, APRIL 29 (9:00-10:00 p.m.)
The end of the Baratheon rivalry drives Catelyn to flee and Littlefinger to act. At King's Landing, Tyrion's source alerts him to Joffrey's flawed defense plan and a mysterious secret weapon. Theon sails to the Stony Shore to prove he's worthy to be called Ironborn. In Harrenhal, Arya receives a promise from Jaqen H'ghar, one of three prisoners she saved from the Gold Cloaks. The Night's Watch arrive at the Fist of the First Men, an ancient fortress where they hope to stem the advance of the wildling army. Written by David Benioff and D.B. Weiss; directed by David Petrarca.