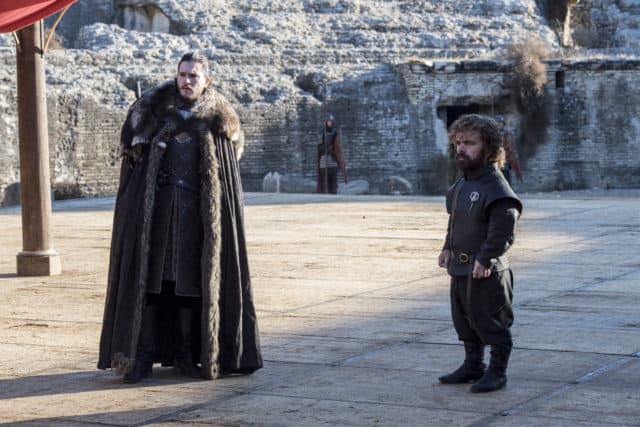 Long time Game of Thrones fans have to be pleased with the Season 7 finale. Not only was it loaded with characters both reuniting and uniting for the first time, but long time fan theories were confirmed and the final season was set up to likely be one of the most epic, talked about seasons of the modern television era. It's going to be extremely hard to top undead dragons.
First, the peace summit at King's Landing reunited the living Lannisters. A lot of characters saw each other for the first time, and something that the fans have long clamored for, the "Cleganebowl", was heavily foreshadowed. That was the favorite moment of the summit for me: Sandor and Gregor Clegane facing off. Putting all of these characters together was a treat for fans, and one of the most gripping, tense scenes on television this year. Plus the reunions between Brienne and Jamie, Podrick, Bronn, and Tyrion, and the brothers Clegane may have made all seven episodes of this season worthwhile.
Second long awaited fan moment: the death of Littlefinger. Once hailed as "the most dangerous man in Westeros", very few people from Robert Baratheon's cabinet remain in the land of the living at the end of Season 7, and now Lord Baelish is not one of them. I was certain that Arya and Sansa would not be gullible enough to fall for his scheme and I was correct. A "trial" for Arya turned out to be for him, and their weirdo brother Bran was able to weave together some facts to make a compelling case for the Knights of the Vale to stick with House Stark, and Arya ended Littlefinger's scheming ways for good. It was a very satisfying moment, to see him exposed as a coward and for the nobility of the Starks to pay off in a good way.
Finally, "The Dragon and the Wolf" has about ten different meanings. Not only did Jon Snow and Daenerys Targaryen finally succumb to the boiling over sexual tension between them from the past few episodes, but with the help of Samwell Tarly and Bran Stark, his true parentage (long theorized by loyal Game of Thrones fans) has finally been confirmed. Since Jon is actually the son of Rhaegar Targaryen and Lyanna Stark, who were married in secret before their deaths, Jon Snow is actually a trueborn heir to the Iron Throne. He also has technically been intimate with his aunt, but I'll get to that in a moment.
Aside from Game of Thrones being by far the most blatantly oedipal show on TV, one of the scenes that stood out to me was the scene between Theon and Jon before Theon headed to save Yara. Theon, of course, felt guilty about betraying the Starks in favor of his Greyjoy lineage. Jon Snow basically told him that the fact that Ned Stark raised him matters. "You're a Greyjoy, and you're a Stark", he said. Ultimately, this raises a larger point of how Game of Thrones views parentage as a whole. Their stance, essentially, is that it matters much more who raised you and influenced you than who gave birth to you. Of course, the prominence of bastard children, dwarves, and social rejects of all levels may have hinted at their stance previously, but it has become obvious as of late.
Here are a few other thoughts:
I never got the sense that Tyrion was pining for Daenerys until he watched Jon go into her room. Is that something I've missed, or a new thing?
I was truly pleased to see Jamie ride north. He's finally realized that Cersei has gone absolutely bonkers and wants to do his duty. Seems to me that his redemption arc is nearly complete.
Please tell me that Beric and Tormund were on that chunk of the wall that didn't fall. That's the implication, right? I'm not sure I can live in a Westeros without Tormund.
After the death of Littlefinger, and with the focus largely on the "Great War", it seems more likely to me than ever that Arya is going to get her shot to kill Cersei.
I'm more pleased than I thought possible with this season of Game of Thrones. I'm not sure what I'll do until the next one begins, but it will probably be along the lines of getting all of my friends to watch the show. Sounds like a good plan to me anyway.
What did you guys think? Let's discuss!
Game of Thrones Season 7 Episode 7 Review: "The Dragon and the Wolf"
Summary
Jon Snow and Daenerys Targaryen meet with the Lannisters at Kings Landing in the Season 7 finale of Game of Thrones