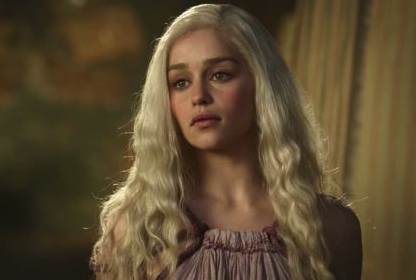 Last week's Game of Thrones held a shocking death for fans who don't read the books. After Melisandre gave birth to a strange shadow creature in the previous episode, it crept into Renly's tent and killed the would-be king in front of Brienne and Catelyn. Despite Cat's protests that Brienne didn't kill her King, the two women were forced to flee. In the end, Brienne vowed to serve Cat in return for her assistance. In Qarth, Daenerys encountered many strange people, and revealed her plan to retake the Iron Throne to Xaro, who offered to marry her so that she could access his wealth.
Stannis swept in to take immediate advantage of his brother's recent death, absorbing the army of the younger Baratheon brother while his wife, Margaery, and his lover, Loras, fled back home to escape Stannis. Meanwhile, Arya had settled as a servant in Tywin Lannister's home and met up again with Jaqen, who said that he would kill three people for her to repay her for saving his life and those of the his two fellow travelers. He proved his worth when he killed the Tywin's torturer. And Theon discovered a way to push his father's agenda against the Stark family.
According to HBO, in tonight's episode of Game of Thrones: "Theon (Alfie Allen) completes his master stroke. In King's Landing, the Lannisters send Myrcella (Aimee Richardson) from harm's way in the nick of time. Arya (Maisie Williams) comes face to face with a surprise visitor; Dany (Emilia Clarke) vows to take what is hers; Robb (Richard Madden) and Catelyn (Michelle Fairley) receive crucial news; Qhorin (Simon Armstrong) gives Jon (Kit Harington) a chance to prove himself."
Watch a preview below for tonight's all new Game of Thrones, airing at 9:00 p.m. ET/PT on HBO. You can also catch up on last week's episode with a short video recap.