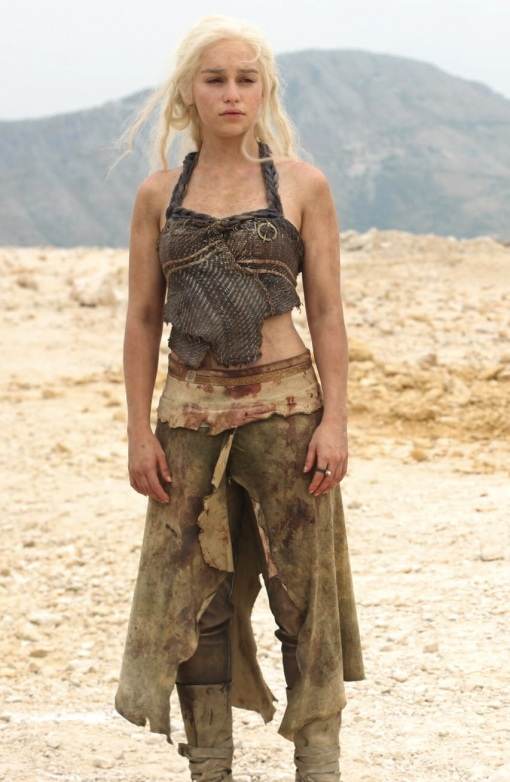 Daenerys Targaryen suffered through many trials in the first season of Game of Thrones. After essentially being sold off and married to Kal Drogo by her brother, she was plunged into a new culture she knew nothing about while being repeatedly raped by her husband. But Danny found a way to survive and she soon fell in love with Kal and her new people, the Dothraki. Unfortunately, terrible circumstances took both her husband and her unborn child from her. Alone with her people and her adviser Ser Jorah, Danny was eventually given a remarkable gift: the hatching of three dragons.
When season 2 of Game of Thrones begins, Danny is marching towards her birthright of regaining control over Westeros. At this moment, protecting her dragons – who would give her untold power when they finally come of age – is priority one. But don't be fooled, the dragons don't solve all of her problems. "Her situation is pretty desperate," actress Emilia Clarke explains. "You'd think the dragons would fix everything." [But] "her child died. Drogo – her beloved – is dead. Her brother is dead. The only relationship she can have is with her people. They are her everything." Iain Glen, who plays Ser Jorah, explains that Danny feels a strong responsibility to care for her people. "Those that follow her have great faith in her and great belief in her."
Watch a character profile of Daenerys, featuring interviews and scenes from season 2, below. The new season of Game of Thrones premieres on Sunday, April 1 on HBO.
For more about next season, check out our Game of Thrones page, with show details and other previews.