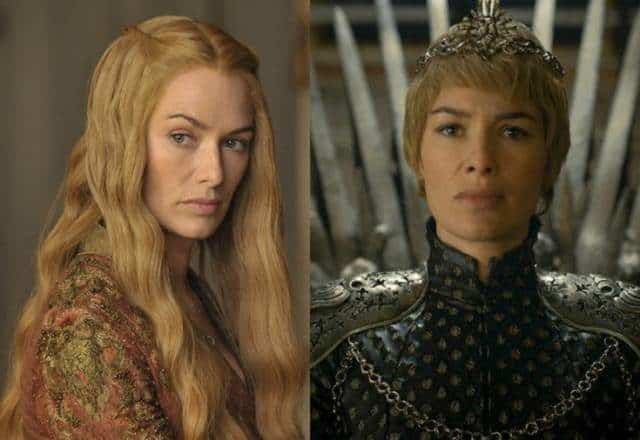 Since its inception Game of Thrones has undergone a transformation into memes and been translated into everything from Disney characters to parodies having little to really do with the series. Dorkly however has taken those same GoT characters that have created such a buzz in the literary and mainstream worlds and boiled them down to two individual images that show the THEN and NOW versions of our favorite characters. To be quite honest they're some of the funniest and most accurate representations to hit the web in quite a while. Out of all the cartoons that have been drawn up of GoT characters these are by far some of the best and the most innovative at this moment. Keep it up Dorkly.
Seriously, get a load of these cartoons and tell me they're not accurate.
Cersei
From being a behind the scenes schemer to a tough as nails queen that simply blows up an entire section of King's Landing without any more remorse than it takes to feel sorry about a hangnail. And she doesn't even bat an eyelash about her youngest son's suicide. This is a far cry from the woman in the beginning of the series that did her best to keep everything on the DL.
Jaime
Seriously, how is he the most level-headed of the bunch now? He knows that the Lannisters are seriously outmatched and yet he's not listened to. He knows that trusting Euron is a bad idea and yet he's ignored by his sister. It seems that losing a hand doesn't just sap your confidence, it makes people think that your extensive military background means nothing.
John Snow
He's never once lost that puppy dog look that he's had since the beginning. Really, he looks like someone hurts his feelings every time he has to defend his decisions. He's proven to be a rather sketchy king so far and it's not with a lot of faith that we wait to see what'll happen when he meets Daenerys.
Daenerys Targaryen
She was every bit the meek little girl when she was given to Khal Drogo, and now she's this bloodthirsty queen bent on reclaiming a throne that's not even hers. Some people might find it tough to really stand behind her as of now, even as fans, but it's a lot better than the alternative.
Arya & Bran Stark
Bran was thrown off a tower, had to adjust to not being able to use his legs, and then eventually came to the realization that he was some all-seeing three-eyed raven. Now there's a good chance that he'll be the one to either stop the White Walkers or destroy Westeros by his tampering with the past. Arya on the other hand has her sights firmly set on her goal, and isn't bound to waver unless she finds a good enough reason. The little girl she was is gone, and in her place is a face-swapping killer without any hint of remorse.
White Walkers
So, when are they getting here? We all get that the north is a big place and no doubt hard to traverse. But these are creatures that bring the storm with them, so we can't really grasp what's taking them so long. If they can freeze the sea to the far side of the wall then they should be able to make it to Westeros soon, we hope.
Everyone else
Khal Drogo, Ned Stark, Catelyn Stark, Robb Stark, and everyone else on the list of the dead that really had nothing to offer are gone for a reason. Khal Drogo might have been interesting to keep around, but like all the others he served a purpose and then just had to be taken out. Some of them we might miss, but others like Robb Stark were just kind of irritating near the end.
To those at Dorkly, great work and keep up the good job, this was awesome.

Save