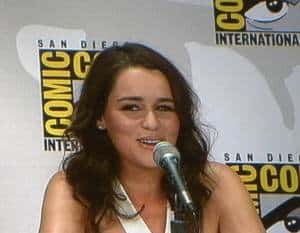 Game of Thrones was a hit for HBO in its first season and garnered many recent Emmy nominations, including a Best Supporting Actor nomination for fan favorite Peter Dinklage, who plays Tyrion Lannister. While the second season isn't expected to air until the spring of 2012, the cast will be back to work on Monday to film it. Casting spoilers have already been released for season 2's new characters (such as Stannis Baratheon and Melisandre). Expect the action to heat up in the second episode as multiple houses and factions go to war over the Iron Throne in the second season.
Today, Game of Thrones makes it first ever appearance at Comic-Con and the room is packed with fans eagerly awaiting members of the cast and the producers. The panel will be moderated by none other than the man who wrote the books that inspired the television series: George R.R. Martin.
We'll be live blogging the Game of Thrones panel here for you, updating our information every 5 minutes or so. Make sure to keep refreshing this page for new information (which will be added to the bottom).
3:05. George R.R. Martin walks to the stage to thunderous applause. A video summarizing the first season is shown. Emilia's very attracted to Dany and GRRM's amazing words.
3.18. David Benioff got hooked on the books in 2006. Back then they discussed the possibility of doing it as a movie. But they spoke to George and said they could only adapt the books as an HBO series.
3.20. Lena paid a hero in Sarah Connor Chronicles and now she's playing a character that a lot of fans hate. She enjoys playing a character that isn't trying to be morally good, but thinks that Cersei is very misunderstood.
3.22. Who would win, Khal Drogo or Conan? Jason thinks Drogo would kick Conan's ass. They're discussing how much they loved the scene of Drogo ripping out of the throat of one of his fellow tribesmen.
3.25. There's thunderous applause for Peter Dinklage and his Emmy nomination. GRRM talks about how Kit has become a new heartthrob.
3.28. What can fans expect on the DVD sets? They didn't have any deleted scenes and used nearly everything they shot, so don't expect them on the DVD. But the team is putting together a lot of supplementary materials, including art from Will Simpson. They'll also be including the first auditions of the cast. Apparently Jason does 'the dance that won him the role'. They went all over the world to find the actor to play Khal Drogo and they went on fan boards and someone suggested Jason's name. Jason apparently came in to read for the part and just tore off his shirt and did a dance.
3.34. Nicolaj really likes his last scene in the season finale with Catelyn Stark, but Jon likes his scene with Arya and really enjoyed filming the fight scenes. Lena said that they just read some of season 2, but enjoyed doing scenes in season 1 with Mark Addy (who played Robert). Peter enjoyed the scenes of when Tyrion was on trial. Emilia said that she likes the final scene of season 1 when Dany rose with the dragons.
3:37. GRRM takes a moment to acknowledge the actors that can't be here at Comic-Con as well as the crew. Now they're opening the floor up to questions from the audience.
3.39. Emilia says that she's trying to pace herself in reading the books so that she's not too far ahead of the seasons. She only started reading book two after finishing season 1. GRRM says that he keeps killing characters because he wants people emotionally involved in his stories and that if the characters are in dangerous situations then we should also expect the unexpected to happen.
3:41. Lena says that everyone deserves to have a little humanity, even Cersei. She says that Cersei thought life was going to be very different and her actions now are just her trying to cope with what is happening.
3:46. Peter says the scene that really hooked him the show was the first scene in the pilot with the white-walkers – the supernatural element that is on the periphery of the story.
3:49. What can we expect for season 2? David says that the book readers know what to expect, but there's a lot of new characters coming in and it's time to see the dragons in action. There is also bad things lurking north of the Wall. Their hope has always been that there is a certain scene in 'Storm of Swords'(two thirds of the way in) and they're trying to keep going so that they can finally film and air that scene (he dubbed it the 'RW'scene).
3:50. They are hoping to film the scene of the Battle of Blackwater as it is written, but warns that it is very expensive. There will be a battle, but we're not sure of the scope yet. GRRM is concerned about the ultimate ending of the series. He's juggling a lot of storylines but hopes he can bring everything together as he sees it in his head. Fans should expect a bittersweet ending. He loves the ending of the Lord of the Rings – tragedy mixed in with triumph – and he wants to do the same.
3:55. Emilia said that when she read the books, Dany seemed very real to her. Women are strong and sexy and powerful and should own those characteristics. Kit says that he's looking forward to Jon focusing on storylines other than just his family in season 2 and that his world is really opening up.
4:00. The panel ends.
[imagebrowser id=1100 template = flipped]
clarissa @ tvovermind.com
twitter.com/clarissa373
twitter.com/tvovermind