Mandatory disclaimer that big old spoilers follow, given a major character death on last night's Game of Thrones. The lead picture should mislead you about who died, but you should probably stop reading and go watch it if you haven't yet.
Oh Barristan Selmy…
Last night's Game of Thrones upset me.
Not because a character I liked died.
Not because the show deviated from the books in a really major way.
But because of how the whole thing was handled.
The scene was…confusing at best, and downright sloppy at worst. The Sons of the Harpy unleash their master plan to kill Daenerys's mercenaries, Unsullied and personal guard alike, flooding the streets with golden masks, and tearing through the Unsullied who aren't used to close-quarters fighting, or really guard duty at all.
We see Grey Worm about to get ripped apart after all his compatriots fall, but in comes Barristan Selmy. Barristan the Bold. The greatest knight who ever lived.
In the books, the legend of Barristan the Bold is enormous. He's the best living fighter on earth, though the book never lets us actually see him fight. Though that same legend has been hinted at in the show, it's not quite as big of a deal, and I think many miss the larger context of his character. This is literally THE BEST KNIGHT ON EARTH, and now he's been cut down in an alley by a group of faceless killers
It's not fitting, and it wasn't very well filmed, either. Yes, Barristan goes down fighting, and he kills five or six guys, but eventually they just overwhelm him. We see his throat about to be slit, but then Grey Worm swoops in to "save" him. Except, we learn, he doesn't.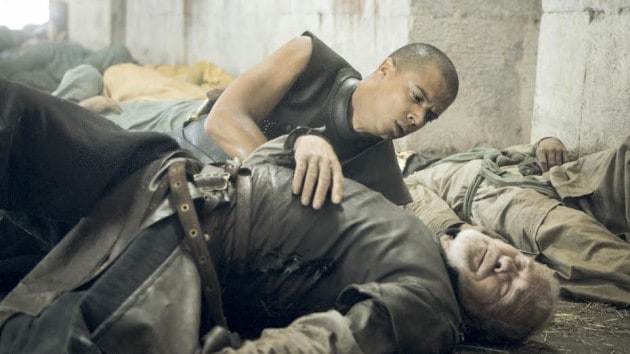 Though both characters are laying on the ground, not moving, at the end of the episode, since Grey Worm appeared to try and save Selmy and his throat wasn't slit, it seemed like Barristan could live on, even if injured. But the "scenes from the next Game of Thrones" showed us that yes, he is very, very much dead, and the actor is now giving interviews about his surprising exit from the show, given that his character is still alive and well in the books.
Everything about this was wrong. The best knight on earth being felled by a few random assassins didn't seem right, as it's not as if he's taken down by some sort of cheap shot or fearsome warrior. He just loses to too many guys. And the fact that it appeared that he might have lived through it, only to have it revealed in the preview scenes that he was, in fact, dead, was total BS. If you're going to kill a character, kill a damn character. Slit that throat. Don't act like he could be okay and let your preview give away that he's actually dead.
Game of Thrones usually does death very well, and I don't think Selmy should have been off limits to die. However, this was handled very, very poorly. I'm looking forward to seeing him press for further glory in the books, the only place where he now lives on.
[Photos via HBO]