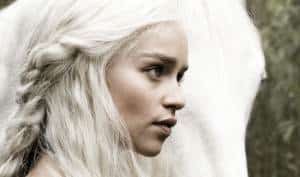 A Game of Thrones fansite, Winter is Coming, put together a great comparison chart of how well the show did compared to other HBO shows, and highlighted a few important facts.
Here's the bottom line: Game of Thrones' ratings increased as season 1 progressed. Sure, there were a few dips from one episode to another, but overall the number of viewers increased as the season went on. When compared to other HBO shows, Game of Thrones scored better than True Blood's first season and eventually caught up to Boardwalk Empire's first season in its season finale (although it hasn't touched the ratings of The Sopranos's first season).
Here are the ratings broken down by episode, according to TV By the Numbers:
Episode 1.01: 2.22 million
Episode 1.02: 2.20 million
Episode 1.03: 2.44 million
Episode 1.04: 2.45 million
Episode 1.05: 2.58 million
Episode 1.06: 2.44 million
Episode 1.07: 2.40 million
Episode 1.08: 2.72 million
Episode 1.09: 2.66 million
Episode 1.10: 3.04 million
Despite the outcry from fans about the death of Ned Stark (played by Sean Bean) at the end of episode 1.09, viewers still tuned in in record numbers to watch the season finale. I think good word of mouth as each episode aired contributed to the steady rise in ratings throughout season 1. This bodes well for season 2 of Game of Thrones, which begins filming on July 25 and should air in the spring of 2012. We even have a bit of casting news about Tudors star Natalie Dormer joining the cast for the second season (read more here).
Game of Thrones will be making its first appearance at San Diego Comic Con next month. For more information, including a list of panelists, click here.
Below is the chart prepared by Winter is Coming, comparing Game of Thrones' first season ratings to the first seasons of the other listed HBO shows.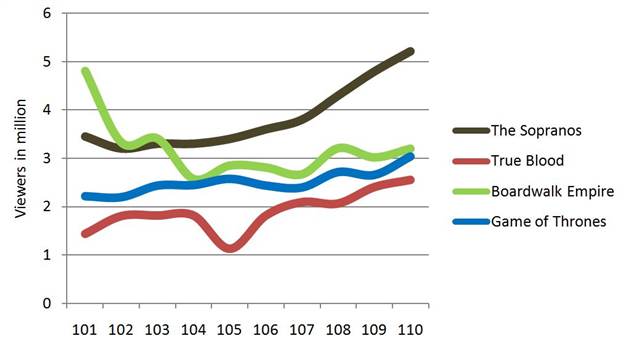 clarissa @ tvovermind.com
twitter.com/clarissa373
twitter.com/tvovermind