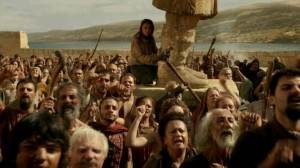 Game of Thrones season 2 is apparently going to have an even bigger scope than the first season did. Casting for the HBO fantasy drama is looking for a lot of extras from Northern Ireland, where the show's second season is being filmed.
Reportedly sought after are "men with beards and long hair, blacksmiths, archers, farmhands, swordfighters and anyone with military or combat experience." An open casting day for all interested will be held on July 4. Filming is slated to begin July 25.
Game of Thrones: Tudors Star Natalie Dormer Joins the Cast for Season 2
Since we'll be seeing a variety of new locations in the second season, it's not surprising that they're seeking extras. It seems to me that these extras will most likely fill Harrenhall (a city that Arya will visit in season 2), but some could also become part of Stannis or Renly's armies. Stannis, for those who have forgotten, it's the late King Robert's brother, who has declared himself king after his brother's death (the King's heir apparent, Joffrey, is actually the product of incest between the king's wife, Cersei, and her brother Jaime). Renly, Robert's youngest brother, doesn't think that Stannis has the right to rule, so he declares himself king as well, and goes to war against his brother, Joffrey, and Robb Stark, the fourth contender for king.
Game of Thrones: Who Will Be the New Face of the Series?
We'll keep you posted as more casting information comes in about the show.
Game of Thrones season 2 will air in spring 2012.