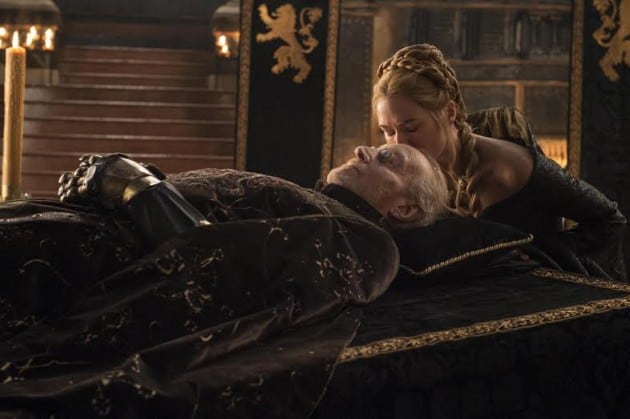 Some Game of Thrones characters may still be trying to become the ruler of the Seven Kingdoms, but there's no disputing this fact: the HBO series is continuing its reign as the king of television, especially with the ratings for the show's Season 5 premiere. With this Sunday's episode, which opened Game of Thrones' fifth season, the series reportedly attracted its largest audience ever, showing that, even years after its premiere, more and more people are joining the Game of Thrones fandom.
Per Variety, a Nielsen estimate states that about eight million viewers watched Game of Thrones' 9/8c broadcast on Sunday, which is 1.16 million sets of eyeballs more (or 17 percent more) than the show's Season 4 premiere and nearly 800,000 more viewers than any other episode of the show ever. Additionally, 5.3 million of those viewers were in the 18-49 demo, giving the Season 5 premiere a 4.19 demo rating, an increase of 14 percent from the show's fourth season premiere.
The previous title holder of "most watched Game of Thrones episode ever," before "The Wars to Come" took its place this past Sunday, was "Mockingbird," Episode 7 of Season 4, which, for those who remember, featured Littlefinger killing Lysa by pushing her out the moon door, and thus continuing his (incredibly creepy) pursuit of Sansa. "Mockingbird" was watched by 7.195 million viewers last year.
While strong ratings are always expected for Game of Thrones, drawing a series high audience for the Season 5 premiere in particular must be even more welcomed by HBO after the first four episodes of Thrones' fifth season were leaked online late on Saturday. These types of numbers continue to prove, though, that no matter who torrents episodes or leaks them, Game of Thrones will always remain an "event series" that viewers will keep watching live.
New episodes of Game of Thrones air on Sundays at 9 p.m. on HBO.
[Photo via HBO]