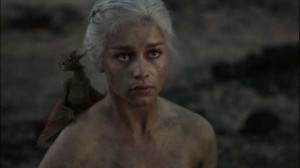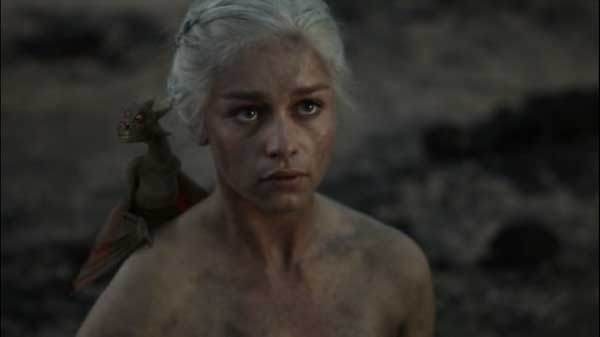 Yeah, you read the title of this article correctly. Over the past few weeks, a lot of the news regarding HBO's Game of Thrones have involved breasts. Or tits, depending on your perspective.
That's right — the HBO series has come under fire for its female nudity, mostly from Los Angeles Times critic Mary McNamara, who wrote an article asking HBO to "tone down the tits," or the "lazy and sexist" female nudity that pervaded throughout the show's first season. She cited the final scene of the season as an example of the more positive showing of 'breasts,' while scenes such as Littlefinger's now-infamous monologue and the scene with Ros and Pycelle as being examples of gratuitous 'tits.'
But is she missing the point? Being the Game of Thrones fanboy that I am, I beg to differ.
A lot of the nudity in Game of Thrones is taken straight from the source material. Granted, the prostitute Ros had a much inflated role on television than in the books, but her presence allowed us a chance to see scenes not included in the books. In effect, she was a new point-of-view character for the season, showing us looks at Theon, Littlefinger, and Pycelle that weren't included in the book. Sure, she was naked for a lot of her screen time, but her position as a prostitute allowed her to hear things that we wouldn't have otherwise heard.
That's not to forget that this is a show about an amoral fantasy world, where women are generally excluded from positions of power. Some of the nudity used on the show is to illustrate that helplessness: remember in the first episode when Viserys appraised his nude sister Daenerys as she looked on, having been reduced to a piece of livestock? That's not gratuity, it's using nudity to prove a point.
Other women, like Ros, use their bodies to elevate them to positions of power that they would otherwise be denied. After all, simply being a prostitute allows Ros to have conversations with two of the king's closest advisors. It's all part of the titular game, and while Ros will ultimately be of no consequence, she's elevating herself to power in her own way.
In fact, the only gratuity I can really recall is the Hodor penis scene. It was in George R.R. Martin's original book, but it serves no story purpose. No storyline or exposition is revealed by Hodor's penis, or even in the presence of Hodor's penis. It's just there for a moment so that Osha can make a cheeky remark about Hodor having giant's blood.
And I'm not saying that there is no gratuitous nudity. Some of the background scenes in Littlefinger's brothel are just sort of pointless, other than to illustrate that it's a brothel. But to call it 'sexist' and 'lazy' is sensationalistic. Breasts or tits: if it serves the story, what's it really matter?