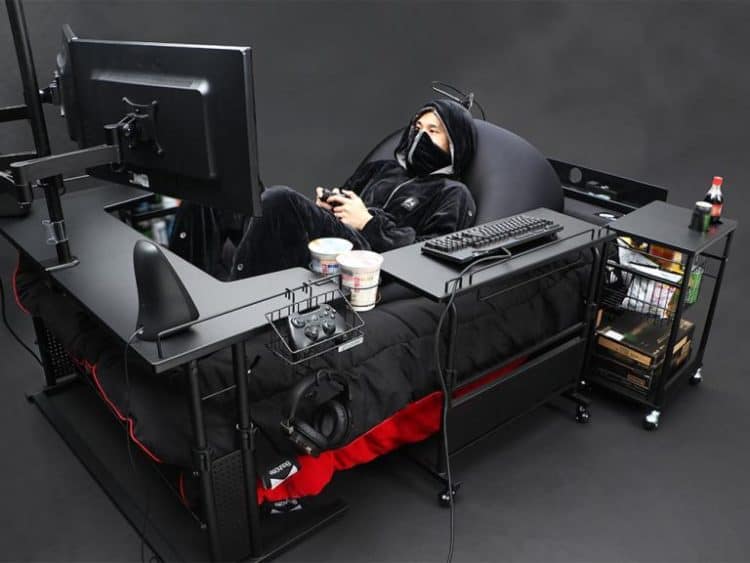 Did people really need another way to be lazy? Sure, it's nice to have a day off where a person doesn't have to get up early if they don't want to, or doesn't have to even get out of bed for a while if that's their thing, but this bed kind of takes it overboard in a big way since if one added a mini-fridge, a microwave, and a bathroom device of some sort there are plenty of people that would likely never leave their bed until the stench became too much. Sad to say, some might not even leave at that point. Just finding out what this bed might cost is likely enough to give someone pause since one has to think that it's without the desired gaming console(s), equipment, food, and furnishings that would go into making this a haven for many gamers. Why bother doing anything but the most essential and necessary functions when you've got this type of bed? In truth this might actually become the bane of some parents in trying to get their kids out of bed in the morning, or to get them to go to sleep at night since constant stimulation is just a short reach away. The only upside is that it all runs on electricity and the fuse box is a surefire way to make certain that the kids will eventually get the point when the power to their room is shut off repeatedly.
Don't get me wrong, my younger self would be sitting here drooling and asking how much it costs in anticipation of buying it. Of course another upside that gamers might frown upon is that it's not really that big, so unless it can be customized to fit different sizes of mattresses a bigger person is going to be out of luck when it comes to staying comfortable for long. Being real though, and no offense to Japan, but this is one of the biggest wastes of money in the name of creating a comfort zone that has ever been invented. For a gamer that doesn't want to do anything or go anywhere and is a complete introvert then sure, it might be worth it, especially if they make their money completely online and from playing games or working online in some capacity. At 16, had I been able to make money online I don't think I would have left the house for days on end unless I needed snacks. But otherwise this is just kind of pathetic really unless it's a gag, which it doesn't sound like.
Gamers all over the world, a good number of them at least, might want to spend their entire wad on this bed unless they have a lick of common sense considering that spending all your time in bed does have its disadvantages, though it's only a disadvantage if someone really cares. George Kamau of Techweez might be one of those that would really enjoy such a thing. The idea of crumbs in the bed doesn't turn off as many people as it might have in the past, while spilling one's drink or food on the sheets would likely be met with the argument that there are cup holders and trays to be used for such things. In other words it's a perfect lazy person's bed, not just a gamer's. The disdain you're hearing in my voice would have still been there years ago if only because there are still those of us that realize the benefit of getting up, moving around, and not subsisting on energy drinks, caffeine, and snack foods to get by during a long day of pressing buttons and toggling joysticks. The idea that video games are actually beneficial is an argument I won't get into since there are benefits for certain individuals, while many others try to latch onto those benefits as an excuse to be extra lazy and removed from their everyday responsibilities since in reality not everyone works online and not everyone can be a game tester. Believe it or not a lot of those individuals spend a great deal of time in an office space, interacting with people, the one thing that this bed is kind of designed to prevent.
If one thinks that interacting with people online is the same thing then it's likely too late for them since they've entered the digital world where interactions are basically voices coming across a line and a manipulation of a bit of code that translates into a video game character that's nothing like the individual that's controlling it. Caitlin Gibson of The Washington Post had something interesting to say about gaming. There's a great amount of novelty in the gaming industry and everything that's gone into it, and the applications are widespread and hard to list all at once. But this isn't one of them. Sorry Japan, but this was a pretty hard fail after getting over the idea of being able to just sit back and relax in bed all day while playing video games. Nice try though.