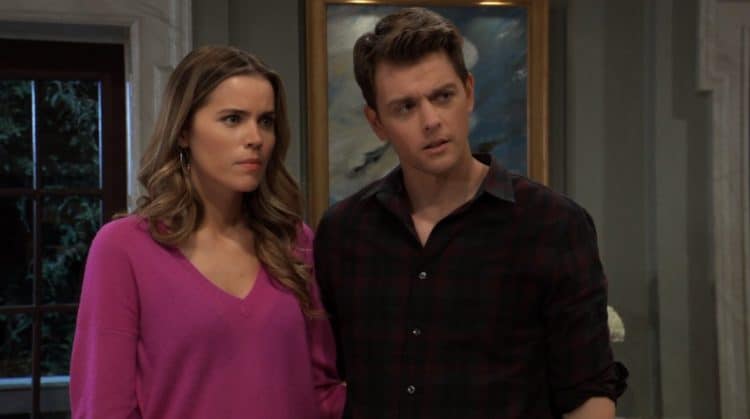 General Hospital fans are certain that some people are just so good when they don't try to find romance in their lives. We know that Port Charles is a hotbed for romance, but we also know that it's a place where secrets are prevalent, and people don't always communicate. Sometimes, the biggest problems in every relationship come down to people lying and hiding things because they assume they know what is best – and the only time that people assume that honesty is the best policy is when they cheated on someone else and want to get that off their chest. Seriously. They lie about the most ridiculous things, but that they tell the truth about. It's baffling, but it is what it is. This is why we like to focus on things like who makes better friends. They failed at romance, but they really do make it seem like friendship is as easy as it gets.
Liz and Nikolas
She's everyone's best friend, honestly. She does that to everyone. She's so likable, yet she tries to have a romance with almost every man she meets. She's known for having multiple kids all with different dads, and most of her kids come from relationships with men whom she was good friends with most of her life. We like to think of Liz as a classic poor decision maker. Like, she knows she has it good with all the people who love and care for her, but she always tries to take that up a notch. Yet, it never works for her. It is hard to blame her, though. She's got all those handsome men around her all the time, and we can see why it's hard for her to find time to not want to sleep with all of them. She and Nikolas, though, were so close their entire lives. They made a mistake with one another, but we like them so much as friends. We did not like them at all as anything more. Friendship, though, is something at which they excel.
Jason and Liz
Ah, yes, another one of her failed love situations. She and Jason have also been friends virtually their entire lives. They have always had such a special friendship, too. They are so close, and they work well together in any situation, and they are pretty together. However, they simply do not have that kind of chemistry. They tried. More than once, honestly, but they just don't have it. And you cannot fake chemistry, if you ask us. You cannot do it. They are too good for one another. They are people who are simply too good as a whole, and that leaves them without any chemistry in their lives. They don't know it, but they don't have it, and that becomes apparent to them each and every single time that they try to make it work when they are at a low point in their lives.
Jax and Alexis
We have a sneaking suspicion that they will find some time to find the romance once again in the near future. It has been a while for both of them, and that's a situation we cannot handle in any capacity. We don't know if there is anything that we need to say about this, but they will find their way back. They've been hinting at it for some time. But, for now, we can say that we like them as friends. They have such an easy friendship. They have such a lovely one, too. They are close, and they actually have chemistry. However, their chemistry doesn't translate in any capacity. He's a pretty good man whose shortcomings are nowhere near as evil as the ones other people have, so she's not all that into him for too long. She's a good person who does the right thing more often than not, but she is exceptionally attracted to men who do not make the same good choices she does. She's always been in love with Julian, so we do assume she will continue that situation for the rest of her life. It's inevitable, and it is what it is for her. Jax, though, is a good friend.